ECG should be regular maintenance and repair,in order to extend the life of the ECG machine and its various components.Specific requirements are as follows.

1.After completing daily ECG tracings,the electrode should be kept clean.Electroless copper alloy If rust,can be used fine sandpaper rub off rust after saline soaked overnight and then to the surface to form a stable performance in the film.Silver-plated electrode is washed with water to dry,avoid bruising silver coating.

2.Lead wire or shielded cable break or damaged easily,especially near the ends of the joints,avoid pulling or twisting force,the collection should be set into a larger diameter ring or hang,avoid excessive distortion or sharp folds.

3.AC and DC ECG machine,should explain timely charge to extend battery life.

4.ECG should avoid heat,sunlight,moisture,dust or shock,with complete cover dust cover.

5.Open the cover every six months to remove dust,dehumidification and checked.The timely removal of the circuit board in the dust,ensure that the internal machine and dry to avoid causing a short circuit due to moisture or dust,damage to the circuit board.

6.The medical equipment maintenance departments check the performance ECG machine.Heat records ECG machine should be based on the heat-sensitive recording paper and paper speed,adjust the heat pen pressure and temperature.ECG artifacts often disturb faults in use,even affect the normal ECG tracings should be timely investigation.

Guangzhou MedSinglong is a professional committed to the single channel ECG machine,three,six and twelve ECG machine manufacturers,professional and technical staff,sales staff,and sales staff,there are any questions you can contact us,contact us at:cindy@medicalequipment-msl.com.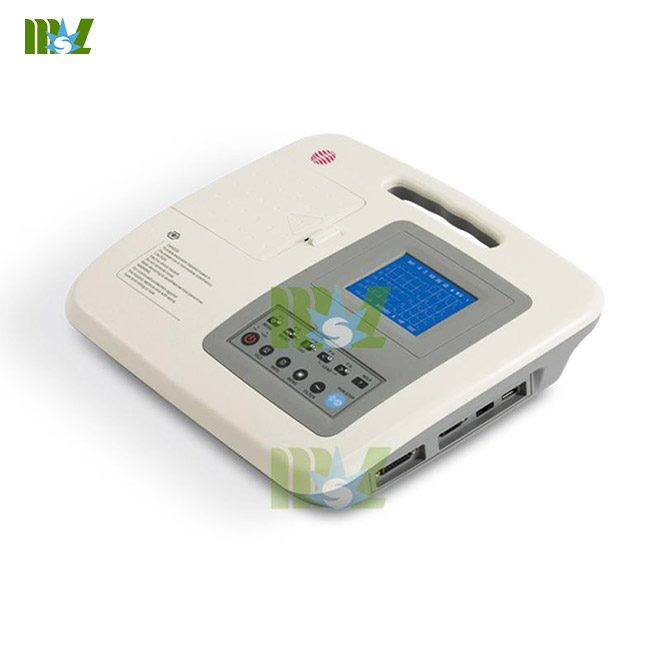 How to fix when below problem came out
1.No lmV scaling voltage
First,eliminate the stylus fixed is not strong,the coil spring sealing off and sensitivity potentiometer adjustments intuitive and easy to find inappropriate; secondly,to check whether the normal lmV calibration switch off,check the standard battery without electricity or electrical fault cannot produce lmV standard voltage,then check if the amplifier is no normal power supply,or an optocoupler component is faulty.

2.Battery voltage indicator does not light
First,the battery from the left side of the machine removed,when checking the battery voltage is normal,the battery charging circuit is no problem.Then check the indicator associated circuitry,found Q414 damaged,replace after properly instructed.

3.Severals common interference came out when using ECG Machine
ECG interference often malfunctions in use; even affect the normal ECG tracings.When looking for interference reasons,first to determine the cause or the machine outside the machine causes.You can use the calibration switch on the machine panel judge.The specific measures are: first lead selector switch set calibration position,the paper feed switch to the recording position,a pen to see if there is interference.If you take the paper record is a straight line,and then presses the calibration switch.Such as scaling wave interference,indicating ECG machine itself malfunctions.If there is no interference,indicating ECG machine itself is no problem,interference by external factors,including machine lead wires,electrodes,or the surrounding environment disturbance.
If you have any questions,please click:http://www.medicalequipment-msl.com/

Related Posts
ECG Machine Fault and six solutions
ECG machine in daily use,often hot pen tracings graphics too thick or too thin......
Wireless ambulatory ecg
Wireless Ambulatory Electrocardiograms (ECGs) are recording devices that use technology such as Bluetooth and Smart Phones for at-home monitoring of cardiac rhythms......