An infusion pump infuses fluids,medication or nutrients into a patient's circulatory system.It is generally used intravenously,although subcutaneous,arterial and epidural infusions are occasionally used.Infusion pumps can administer fluids in ways that would be impractically expensive or unreliable if performed manually by nursing staff.For example,they can administer as little as 0.1 mL per hour injections (too small for a drip),injections every minute,injections with repeated boluses requested by the patient,up to maximum number per hour (e.g.in patient-controlled analgesia),or fluids whose volumes vary by the time of day.

Types of infusion
The user interface of pumps usually requests details on the type of infusion from the technician or nurse that sets them up:

Continuous infusion usually consists of small pulses of infusion,usually between 500 nanoliters and 10 milliliters,depending on the pump's design,with the rate of these pulses depending on the programmed infusion speed.

Intermittent infusion has a "high" infusion rate,alternating with a low programmable infusion rate to keep the cannula open.The timings are programmable.This mode is often used to administer antibiotics,or other drugs that can irritate a blood vessel.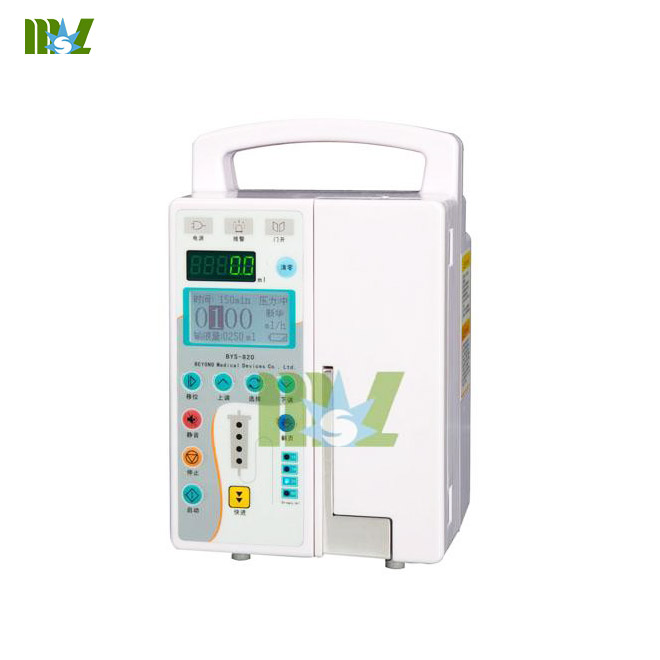 Patient-controlled is infusion on-demand,usually with a preprogrammed ceiling to avoid intoxication.The rate is controlled by a pressure pad or button that can be activated by the patient.It is the method of choice for patient-controlled analgesia (PCA),in which repeated small doses of opioid analgesics are delivered,with the device coded to stop administration before a dose that may cause hazardous respiratory depression is reached.

Total parenteral nutrition usually requires an infusion curve similar to normal mealtimes.

Some pumps offer modes in which the amounts can be scaled or controlled based on the time of day.This allows for circadian cycles which may be required for certain types of medication.

medicalequipment-msl is a professional committed to the Infusion pump manufacturers,professional and technical personnel, sales staff,after-sales staff,you can contact us if you have any question,contact email:cindy@medicalequipment-msl.com. Types of pump
There are two basic classes of pumps.Large volume pumps can pump nutrient solutions large enough to feed a patient.Small-volume pumps infuse hormones,such as insulin,or other medicines,such as opiates.

Within these classes,some pumps are designed to be portable,others are designed to be used in a hospital,and there are special systems for charity and battlefield use.

Large-volume pumps usually use some form of peristaltic pump.Classically,they use computer-controlled rollers compressing a silicone-rubber tube through which the medicine flows.Another common form is a set of fingers that press on the tube in sequence.

Small-volume pumps usually use a computer-controlled motor turning a screw that pushes the plunger on a syringe.

The classic medical improvisation for an infusion pump is to place a blood pressure cuff around a bag of fluid.The battlefield equivalent is to place the bag under the patient.The pressure on the bag sets the infusion pressure.The pressure can actually be read-out at the cuff's indicator.The problem is that the flow varies dramatically with the patient's blood pressure (or weight),and the needed pressure varies with the administration route,potentially causing risk when attempted by an individual not trained in this method.

This article is from wikipedia