MSLVU09 medical full-digital veterinary ultrasound scanner
1.Probe element:80 elements
2.Scanning mode: electronic convex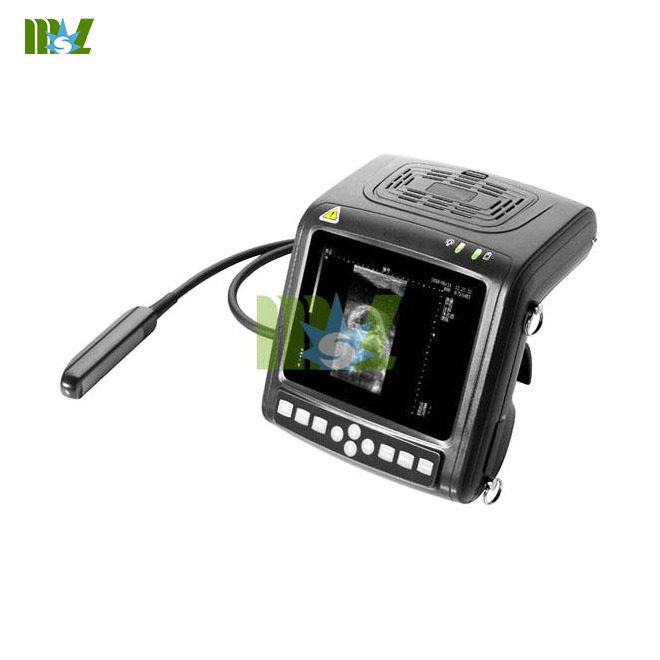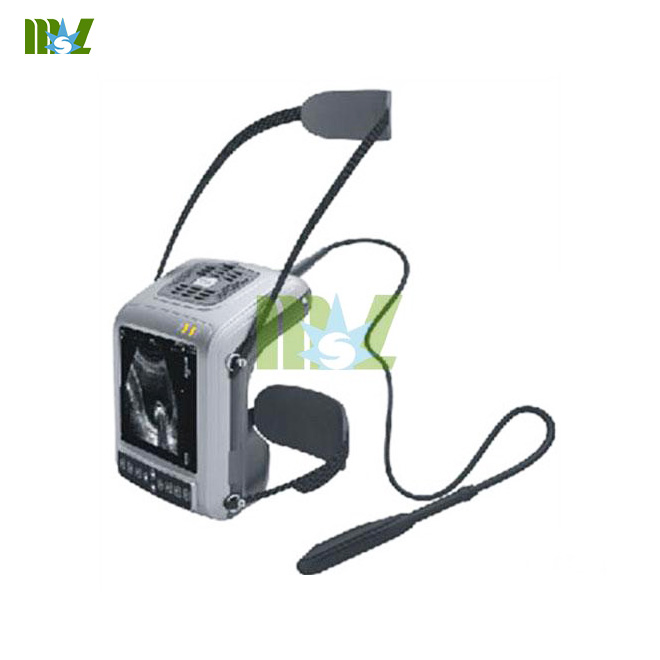 Best medical veterinary ultrasound machine-MSLVU09
Main specification
Screen display:5.7''high resolution color TFT LCD
Probe model:electronic convex and linear
Elements of probe:80
Standard probe:6.5MHz multi-frequency linear rectal probe; frequency range:4.5/5.5/6.5/7.5 MHz
Optional probe:4.0MHz multi-frequency convex rectal probe; frequency range:2.0/2.5/4.0/5.0 MHz
Optional probe:3.5MHz multi-frequency convex probe; frequency range:2.0/2.5/3.5/5.0 MHz
Optional probe: 6.5MHz multi-frequency intra-cavity probe 6.5 MHz;frequency range:4.5/5.5/6.5/7.5 MHz
Optional probe:7.5 multi-high frequency linear probe;frequency range:5.5/6.5/7.5/9.0 MHz
Optional probe:5.0MHz multi-micro convex probe; frequency range:4.5/5.0/6.5/7.5 MHz

Scanning angle: convex probe:60°,intra-cavity probe:135°
Body marks:1.bovine 2.dog 3.equine 4.cat 5.cadioloy, total 22 kinds
Probe connector:1 pc,automatic identifying function
Receiving channel:≥16 digital beam former
Resolution:horizontal≤2mm,Vertical≤1mm
Dead Zone:≤5mm
Maxim scanning depth:≥190cm(according to the probe)
Geometric position accuracy:horizontal≤5%,Vertical≤5%
Scanning mode:B,2B,4B,B/M,M
Full field image with 8 lever adjustment(8 kinds Magnification)
Gain range:general gain continuously adjustment(0~127dB)
Dynamic range:27~90dB,video adjustable
4 kinds angles /width adjustment
Gray:256
Imaging technology:full digital beam forming,continuously dynamic adjustment focusing,Dynamic aperture
Image storage:100 frames permanent storage
Cine loop:256 frames
Intelligent TGC control: near-field and far-field adjustment.
Imaging processing:
pre-processing(continuous dynamic focusing,dynamic aperture,dynamic filtering),
post-processing(4 gamma correction),correlation processing(4 levers),Left/right,
positive/negative, vertical, horizontal flip and B/W conversion, edge enhancement (4),etc..
With the image enhance the depth and the local amplification
Wire switch realize the freezing and unfreezing
Frame rate:30 frames/second.
Measurement:
Normal measurement:distance,Perimeter,area (tracing method, ellipse method),volume,etc.
OB measurement:Cattle,dogs,horses,cats, goats,camels and sheep and pre-gestational age birth.
Heart of conventional measurements:depth,slope,heart rate,period
Report: OB report;
Character Tags:name,age,hospital name,and automatically display the date,time,probe type,probe
frequency,frame related to the number of the focus number,gain,dynamic range,etc.
Battery:Bulk(2400MAh),Large capacity lithium Battery, more than 200 minutes work
Weight of main unit:1.1Kg
Interface language:English
Optional mouse
Puncture and guide functionality(Puncture and guide wire 2 can be calibrated,angel and position are adjustable)
Positioning line
High-speed USB-A port: Supporting Large-capacity disk and mouse U
High-speed USB-Bport: could transfer image( "case report software V3.1"software)
Dual-mode output: PAL/NTSC
Adapter:40VA
Power:85V~242V,48~62Hz(Wide Power Supply ability)
With green energy-saving function
Built-in pseudo-color (eight kinds)
Print Output: Optional Video Recorder
Battery, battery Charger, apparatus, strap, bracket.
Standard configuration

No.

Name

Quantity

1

Main Unit

1 unit

2

6.5MHz linear rectal probe

1 pc

3

Internal battery

2 pcs

4

Charger

1 unit

5

Neck belt

2 pcs

6

Wrist Bandage

1 pc

7

Bracket

1set

8

Handle freeze switch

1 set

9

The Oxhide Case

1 unit

Optional Configuration

No.

Name

1

7.5MHz High Frequency liner probe (Multi Frequency)

6.5MHz intra-cavity probe (multi frequency)

5.0MHz pediatrics micro-convex probe (multi frequency)

3.5MHz cardiac micro convex probe (Multi frequency)

4.0Mhz convex rectal Probe (Multi frequency)

2

Video Print P93W-S

3

Mouse

4

Plastic Stuffing box

5

Software of case report process center