Portable Veterinary Ultrasound Scanner MSLVU05
1,Veterinary equipment
2, Ultrasound Scanner
3,Veterinary Medical machine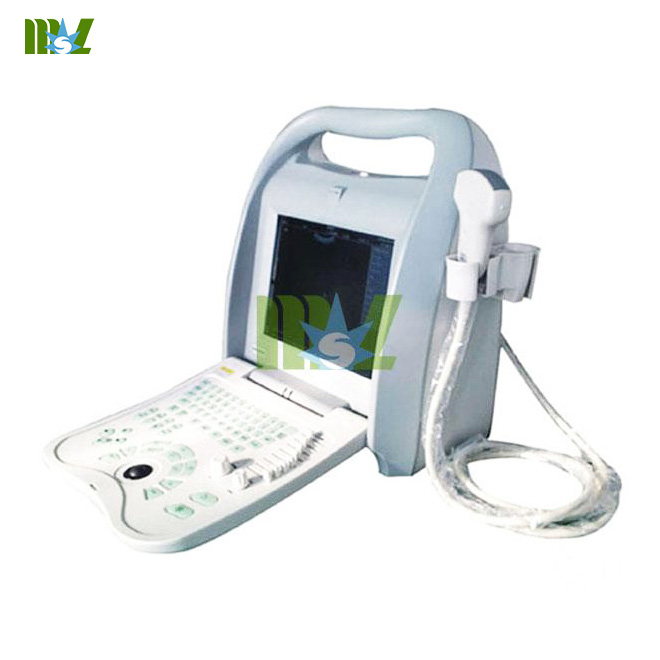 Handheld Digital ultrasound scanner for veterinary-MSLVU05
Intended Application:
Abdomen, Gynecologic and Obstetric, small parts, urological, cardio, etc.
Main specification
Monitor: 10.4" high resolution TFT LCD
Probe Mode: Electronic convex array; Electronic linear array
Probe element:80 elements
Standard probe:6.5MHz linear rectal probe
(Frequency conversion scope:4.0 / 5.0 / 6.5 / 7.5 MHz)
Optional probe:3.5MHz micro-convex frequency conversion probe.
(Frequency conversion scope:2.0 / 2.5 / 3.5 / 5.0 MHz)
Optional probe:4.0MHz convex rectal probe
(Frequency conversion scope:2.0/2.5/4.0/5.0 MHz)
Optional probe:6.5MHz intra-vaginal frequency conversion probe.
(frequency conversion scope:4.0 / 5.0 / 6.5 / 7.5 MHz)
Optional probe:7.5MHz frequency conversion probe.
(frequency conversion scope:5.0 / 6.5 / 7.5 / 9.0 MHz)
Optional probe:5.0MHz micro-convex frequency conversion probe.
(frequency conversion scope:3.5 / 4.5 / 5.0 / 5.5 MHz)
Scanning angle:convex probe 60°,intra-vaginal probe 130°
Body Mark: 1.General 2.Bovine 3.canine 4.equine 5.feline 6.cardio total 22 kinds
Probe socket: 2 sockets, automatically identify the probe
Host machine
FULL DIGITAL B MODE ULTRASONIC DIAGNOSTIC INSTUMENT
Net weight:8.5Kg
Channels:≥32 channels digital beaming composite
Resolution:horizontal≤2mm,vertical
Dead zone≤5mm(test report actually≤3mm)
Max scanning depth:≥17cm
Geometry position precision:Transversal≤5%,Longitudinal≤5%(test report actually≤4%,Longitudinal≤4%)
Scanning mode:B,2B,4B,B/M,M
28 grades depth adjustment under full visual field Gain:0~127dB
Dynamic scope:27~100dB,visible & adjustable
Four different angles / switchable width Gray: 256
Imaging technique:full digital beam-composite, continuous dynamic focusing, dynamic aperture
Image storage: main unit Disk C 32 MB, 100 frames permanent storage
Internal hard disk: 250GB, images\patient report\cine loop can be saved easily
Cine loop:256 frames
8 stages TGC control
Image processing:pre-process(continuous dynamic focus, dynamic aperture, dynamic filter), post-process(4 grades gamma correction),frame correlation, black/white reversal, left/right reversal, up/down reversal, edge enhancement, etc.
16 stages Sound power control
Depth hoist / local zooming
Disk management function
Frame frequency:30 frames/s
Measurement and analysis:
General measurement: distance, circumference, area, volume, slope, heart rate and cycle.
Obstetric measurement: EDD and GA for Bovine, equine, ovine, canine, feline, goat, llama with OB report
Cardio measurement and analysis: M routine measurement software package (depth, slope, heart rate, cycle), cardio measurement software package (left ventricle function, mitral valve, aorta, ejection period, cardiac muscle weight, cardio report, etc.
Statistic function: column diagram sectional view
Report: OB report, cardio report
Note:name, age, gender, hospital name, time, date, probe type, frequency, focus, frame correlation, gain, dynamic scope, etc.
Language: English/Chinese
Backlight silica gel keyboard and Optical Trackball
Puncture guide, with two approvable guiding lines whose angle and position can be adjustable.
USB-A socket for flash disk to store images directly (it can store both patient image and relative report. Support files management, disk management and software update.)
USB-B socket for transferring of image to PC (optional software of case report process center)
Output: PAL / NTSC
VGA output port.(Gray signal)
DICOM3.0 function:110V/230V±10%,60/50Hz±2%
Large capacity battery: 10Ah lithium battery, support more than 240 minutes. 2 battery chargers choose: 16.8V/1A & 16.8V/2A.
Energy-saving Function
LCD adjustment for: Brightness, contrast, backlight; guide for Electric quality of battery
Print function:
Appointed laser printer includes HP Laser Jet 1020,HP Laser Jet 1022,HP Laser Jet P1007,HP Laser Jet P1008 can be connected to print the image & report.
Optional Mitsubishi thermal printer
VET USE LCD PORTABLE, FULL DIGITAL

1

8.5 KG

2

10.4 ' High-resolution color LCD display

3

32 channels

4

software for 1.General 2.Bovine,

5

3.Equine,4. Canine, 5. Feline, 6.cardio

6

OB report & Cardio report

7

Disk management function

8

Statistical functions: histogram, cross-section diagram.

9

Battery-drive for 4 hours

10

250G hard disk storage for images & cine loop & reports

11

DICOM 3.0, 3 USB ports, VGA port.

12

Laser printer is available

13

PAL / NTSC output