Automatic Steam Sterilizer MSLSS01
1.Silicone rubble for seal
2.LCD screen indicate working state
Automatic Steam Sterilizer - MSLSS01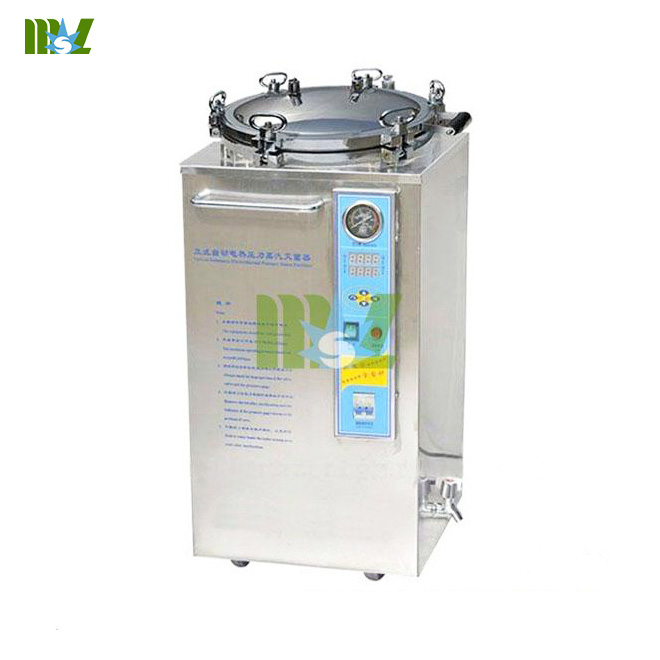 Name

Automatic steam sterilizer

Model

MSLSS01

Volume

35L/50L/75L/100L/120L/150L

Voltage

220V, 50HZ

Power

2.5-4.5KW

Feature

1. High quality SUS304 stainless steel with 0CR18NI9TI

2. Overpressure auto-discharging at 0.145-0.165Mpa

3. The highest working temperature: 126'c-129'c

4. Dual scale numerical pressure gage indicate temperature and pressure

5. Operating easy, security and reliable

6. Eletric heating

7. Dimension of sterilizing chamber: dia280/365*h250/320mm*2

8. Timer range: 0-80min

9. Sterilization time and temperature can be controlled

10. Silicone rubble for seal

11. LCD screen indicate working state

12. Computer comtrol auto recycle sterilizatioin

Range of application

It's vertical autoclave sterilizer which is designed for the hospital, clinic, lab, etc.

It's mostly suitable for sterilizing of surgical, dental equipments, glassware, culture medium and biological dressing, food and goods, etc.