flexible and convenient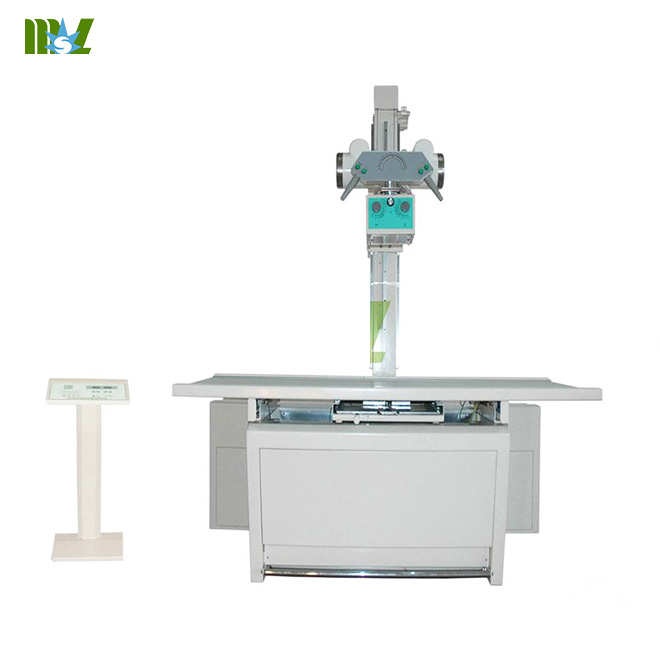 Best price for veterinary machine-MSLVX13
Features
1. High-precision control in radiography time: Minimum exposure time is 0.0025 second, and quick radiography is accessible at any time without the influence of power phase, thus high-quality x-ray films are easily achieved
2 Self-protection, self-diagnosis: Once the malfunction happen, generator protection device, alarm, chain can be inquires the fault code, convenient maintenance treatment
3 Compact structure, Reduces installation space
Function:
Radiography, single-table single tube
1. Maximum output power
Intermittent mode: 100kV,200mA,20kW.
2. Adjustment range of tube current,tube voltage
tube current:Radiography 16mA~200mA.
tube voltage: Radiography 40kV~125 kV.
3. Exposure Time:photography0.0025s~6.4s step adjustable
4. Frequency operation≥30kHz
5. The condition of power
Power Voltage:220V±10% or 110V ±10%
Internal resistance: less than 0.5Ω.
Technical index of main component
Frequency operation of high voltage x-ray generator≥30kHz.
Internal resistance: less than 0.5Ω.
Output power:20kW.
Output Voltage: Radiography: 40 kV~125kV, step 1kV;
Output Current::Radiography: 16mA~200mA,
Exposure Time: 0.0025s~6.4s
Display:digital pipe display photography voltage\ Photography current\ photography time\ mAS of photography
X-ray tube
Max tube voltage:125kV Max tube current:400mA.
Small focus:1.0mm ;Big focus:2.0mm.
Speed of anode rotating:2800r/min
Anode heat capacity:140KHU
Radiography Bed
Integration of the bed with stand column without skyrail design.
Length*width*height of bed surface:1200mm×720mm
Distance from table surface to film:70mm
X-ray source component pillar:
Moving crosswise (left & right):+180°~-180°, deviation<±2°
Moving lengthways (along ground railway) ≥1200mm
Cassette with Grid
Fixed beam filtration grid density ≥ 40 lines / cm
Ray-filter grid:grid ratio 10:1