3.5kw medical high frequency veterinary x ray machine MSLVX11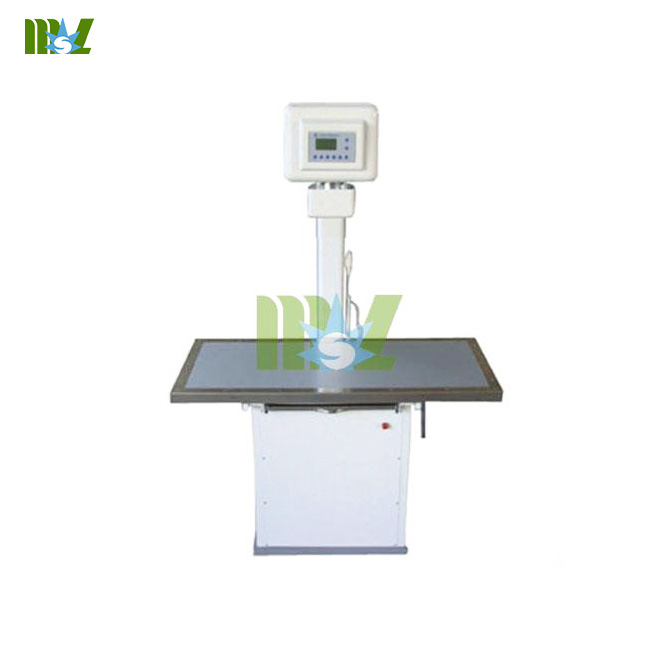 Portable digital safety x-ray system-MSLVX11
Main Parameters
1. Power: 220V ±, single-phase three-wire (live, neutral, ground)
2. the power: maximum output power of 3.5KW, Power≥5KW
3. Power frequency: 50 ± 1HZ
4. the operating frequency: 30KHZ
5. photo tube voltage: 40KV-110KV, continuously adjustable,adjust the step 1KV
6. photo management power: Max 70mA
7. the photography time :0.04-3.2 S
8. X-ray tube core Model: XD60-0.5 3.5/110
9. the focus of the nominal value: 1.5
10. the inherent filtration: 1.8mmA1
11. longitudinal movement of the bed range≤200mm
12. lateral movement range of bed≤500mm
13. photographed specifications: 8 "*10", 10 "*12", 12 "*15", 14 "*17".
14. focal length: 1000mm
15. Weight: 85kg
16. Machine size:L*W*H = 1200mm*750mm *1900mm
Features
1. An X-ray machine special for animals;
2. Adopt tungsten-acid-calcium-nanometer-particle production technology, which can
make high-definition image in low mA;
3. According to animal medical image principle, microcomputer intelligent control
system, the radiography parameters are automatically adjusted. The operator do
not need specialized training, as long as the fine-tuning parameters which can
obtain the best image;
4. The floating bed and the red-light-to-center technology make the operation
convenient and positioning accurate;
5.Japanese panasonic non-contact switch components make no flicker and noise
when taking pictures,which do not scatter the animals' attention;
6.Can use wireless remote control technology.No direction and the remote distance
is not less than 10 meters;
7.Low mA,low ionizing radiation, environmental friendly.