ECG Machine: Single channel
Lead: standard 12 leads
Lead Acquisition: simultaneous 12 leads
Drift filter: Anti-Drift System
CMRR: >100dB(with AC filter)
Input circuit: Floating; Protection circuit against Defibrillator effect
Input circuit current:

≤0.1μA

Input Impedance:

>50MΩ
ECG-901A Single channel digital ECG machine:with measurement (Automatic Analyze is optional).Multiple printing mode.High quality

Latest ecg machine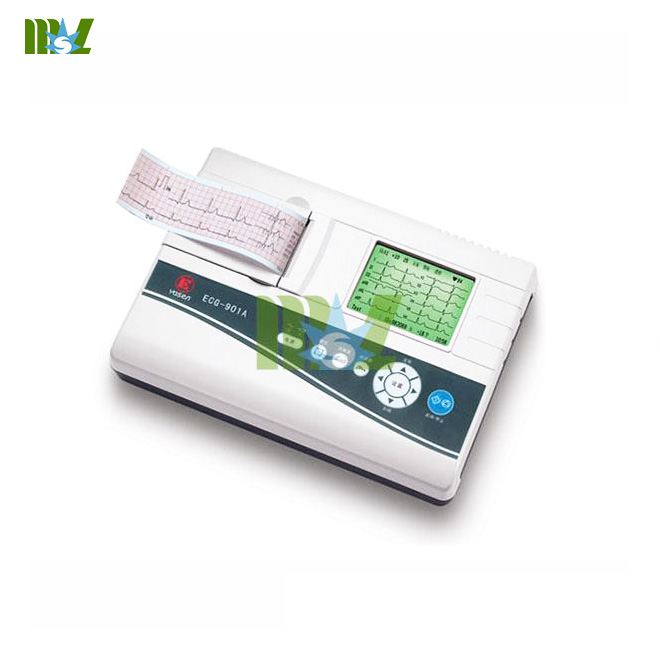 Latest ecg machine
Features:
Single channel digital ECG machine with measurement (Automatic Analyze is optional)
Design of all digital, digital filtering, Auto baseline adjustment
3.8 inch LCD screen (320X240), Simultaneous 12 lead acquisition
High resolution hotspot output system, simultaneous ECG wave, lead, paper speed, gain, analyze report and etc detailed data
Multiple printing mode ( Manual/ Auto/ Ref.lead), Built in RS232 interface,(USB is optional);Chinese/ English language, 8 patients save/ copy/ communication
AC/ DC power, built in rechargeable Lithium battery, hidden handle
Design of modularization, (under ECG workstation) if connect with computer, can save ECG record.
Items

specifications

Lead

standard 12 leads

Lead Acquisition

simultaneous 12 leads

Resolution

18bit/1000Hz

Operation mode

Manual mode; 3 Auto modes(with measurement report, automatic Analyze is optional)

Filter

AC, EMG,Drift Filter

Drift filter

Anti-Drift System

CMRR

>100dB(with AC filter)

Input circuit

Floating; Protection circuit against Defibrillator effect

Input circuit current

≤0.1μA

Input Impedance

>50MΩ

Patient current leakage

<10μA

Calibrating voltage

1mV±2%

Voltage Tolerance

±500mV

Time constant

>3.2s

Frequency response

0.05 ~150Hz

Noisy level

≤15μVp-p

Threshold

≤20μV

Paper speed

25/50mm/s(±3%)

Sensitivity

AUTO,2.5,5,10,20mm/mV

Recorder

High resolution thermal printer

Paper specification

50mmx20m,roll

LCD display

3.8 inch 320×240 graphic LCD display menu, operation status and ECG waveform.

Safety level

IEC60601-1 class I, type CF

Power supply

AC : 110V/220V/85~265V,50/60Hz±1Hz;30VA

DC : rechargeable Lithium battery

Dimension

288mmX204mmX60mm.
Contact information:
Email: jenny@medicalequipment-msl.com