Pre-processing: variable aperture, image direction, dynamic filter, edge enhancement, etc.
Portable ultrasound scanner for sale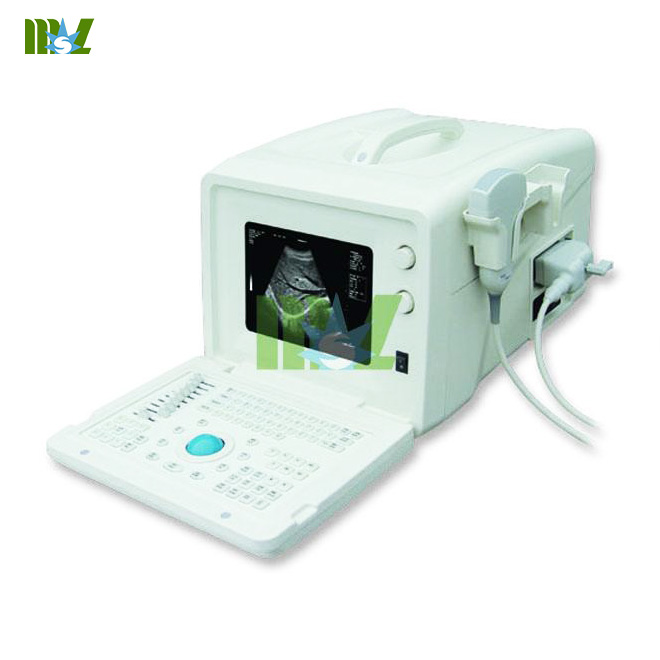 Features
Image mode: B, B/B, 4B, B+M, M.
Image magnification: *08,*10,*12,*1.5,*1.8, *2.0, six modes; And ascension.
Local zoom: 2 times local zoom in real time
Dynamic range: 64dB 96dB adjustable
Focus: 4-segments dynamic electronic focuses selected.
Pre-processing: variable aperture, image direction, dynamic filter, edge enhancement, etc.
Post-processing: digital space time filter, By corrections, 16 Pseudo Colors, column correlation, frame correlation, spot correlation, linear interpolation, etc.
Multi¡ªfrequency: 2.5MHz/3.OMHz/3.5MHz/4.OMHz etc. Multi-frequency selected.
Measurement: distance, circumference/acreage, HR pregnancy week (BPD, GS, CRL, FL, AC) and calculating fetus weight, etc.
Annotation: Chinese/English interface transition; hospital name, doctors/patients¡¯ name, case number, gender, age; 16 body marks with probe location, full screen character annotation, real time clock display.
Puncture lead: Image B: Puncture guide line under B mode
Gain adjustment: 8-segments TGC adjustment GAIN adjustment or near field, far fiel4 overall gain adjustable. Image reverse: left/right, black/white, up/down.
Storage: 128 images permanent storage.
Cine loop: 256 images real time display cycling/one-by-one checked
Output interface: 2 SVGA video outputs, SVGA color monitor circumscribed; 2 PAL video outputs, which can be connected with PAL standard monitor, Video thermal recorder, ultrasound image workstation, etc.
Optional features: multiple probes connectable, USB port, Video thermal recorder
Probe connectors: 2 socket multiple probes connectable
Gray scale: 256

Standard Specification
10" SVGA high resolution monitor
80 elements R60, 3.5MHz multi¡ªfrequency convex probe

Optional
High frequency linear probe, electronic transvaginal probe, rectal probe, video thermal recorder, ultrasound image working station, etc.