MSLIS04 IV fluid controller
1.Multi-functional infusion controll
2.IV drip controller with warmer
3.Infusion pump with warmer

medical infusion pumps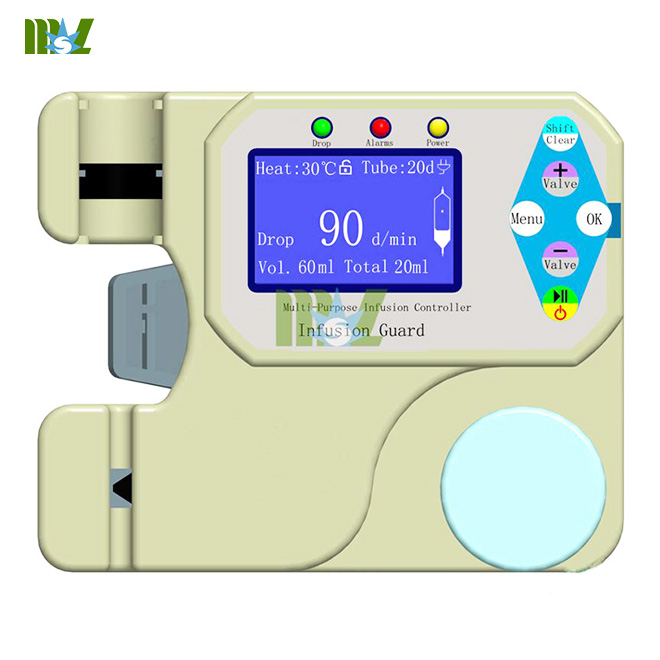 Our research and development production of MSLIS04 "Multi-purpose infusion-warmer controller", is national patent product and synchronization of the fluid control and heat control. It fills the gap in the industry, and has the following characteristics and Clinical Significance
Characteristics:
1. Infusion control + temperature control, dual control functions
2. In the low temperature, four levels warmer setting to improve comfort and reduce side effects.
3. Arbitrary infusion rate and automatic adjustment, infusion accuracy of ± 5% to guarantee accurate infusion.
4. Three modes in one : drop / min, ml / h and time patterns
5. Friendly interface, keyboard visual simplicity, and just put tube into the heated rotating disk then connect power began to heat.
6. Monitoring timely, multiple alarm, safety and reliability; simplified care and accompany process
7. Energy-saving environmental protection, power is only 1 watt (no heating state), without any pollution and waste, full power can be used for more than 8 hours
8. Compact, weighing only 420 grams (including battery), which blossoms placed in the infusion chair, hanging rail tube, etc., no special supplies, it is security, economic, scientific device
9. Applicable to a wide range: can be applied in transfusion, blood transfusion and transmission occasions nutrition
Clinical Significance of infusion warmer:
1. Infusion heating can eliminate or reduce the liquid temperature is low due to infusion reactions caused, especially to the elderly and children with body when the cold infusion, vascular spasm, pain, chills, stomach pain, cough and other adverse stimuli, have to eliminate or reduce the effect;
2. To eliminate or reduce the the physical consumption paid for the balance of temperature of the liquid
3. To improve the speed of molecular movement is conducive to full efficacy, easy to absorb;
4. Improve the infusion rate, shorten the infusion time
5. If the long-term low-temperature fluids, prone to hardening of the arteries, especial in Spring, Autumn and Winter is more obvious, infusion warmer can make the infusion is not cool and no pain, making treatment more humanized.
6. Heating can eliminate the low-temperature dissolution of pharmaceutical dispensing and patient infusion bad cold phenomena. January 2006 revised American Association of Transfusion Standard of care was also raised that heated to 35 °C before dispensing liquid.
Technical specification and Functions
Product

Multi-Purpose Infusion Controller ---Infusion Guard

Model

MSLIS04

Tube

15 drops/ml, 20 drops/ml, 60 drops/ml

Principle

Gravity Infusion;

Infrared photoelectric beam detects drips; controlling valve

automatic controls infusion rate; and heating function.

Operational

condition

Ambient temperature : +5°C~40°C

Relative humidity : 20%~80%

Power source

Both AC. and DC.power supply

220V~ 50Hz/60 Hz

7.2V 800mAH

Power

consumption

3 VA (without heating)

12VA (heating)

Range of

setting

Drop rate: 1drop/min ~ 140 drops/min

Flow rate :

15 drop/ml: 4 ml/hour ~ 560 ml/hour;

20 drop/ml: 3 ml/hour ~ 420 ml/hour;

60 drop/ml: 1 ml/hour ~ 140 ml/hour.

Volume limit:1ml ~ 999ml (over 999 ml displays as"all")

Time setting : 1min ~23 hours and 59mins

Total volume: 1ml ~ 9999ml

Accuracy

Drip rate : ±3% ; Flow rate :±5% ; Time : ±5%

Heating

output fluid temperature is up to 2°C~5°C increase in

the low-temperature environment.

Alarm

Sound and light alarm when battery disconnection,

low battery, Finish,drops-checking failed and leakage

Dimensions

135mm × 110mm × 45mm

Weight

400g(battery includes)