MSLIS02 Double Channel Syringe pump
1. Double channels
2. Unique Voice Alarm system
3. Large LCD screen
4. Good quality

double channel syringe pump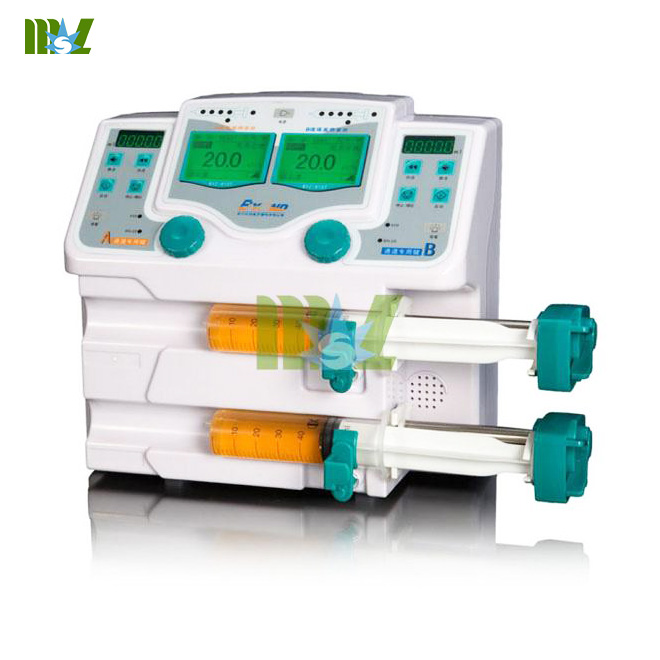 Features & Functions:
1. Three working modes: rate mode, time-volume mode, dosage-weight mode.
2. Unique Human Voice Alarm system and accurate injection rate make the injection process safer and more reliable.
3. Have store many brands syringes, automatically calibration and compatible with any brand syringes
4. Large LCD screen displays working status.
5. KVO and Bolus functions.
Technical parameters:
Product name

MSLIS02 Double Channel syringe pump

Flow rate

50ml syringe:0.1~1500ml/h;

30ml syringe:0.1~900.0ml/h;

20ml syringe:0.1~600.0ml/h;

10ml syringe:0.1~300.0ml/h

The range of limiting volume

0~999.9ml

The range of injected volume

0~9999.9ml

Accuracy of flow rate

Within ±3%(Choose the syringe of specified manufacturer correctly. This accuracy of flow rate is not including the errors of syringe itself.)

Purge rate

Purge rate of 50ml syringe:1500ml/h;

Purge rate of 30ml syringe:900.0ml/h;

Purge rate of 20ml syringe:600.0ml/h;

Purge rate of 10ml syringe:300.0ml/h

Alarm and warms

The pump can give out alarming when injection soon finish, injection finishing, injection of limited amount finished, injection is blocked, syringe falls off, syringe is improperly installed, setting error, AC power has been pulled out, low battery and so on.

Injection blocked

Choose in the three kinds of occlusion alarm pressure according to the clinical requirements(High, Medium, Low)

KVO rate

1ml/h

Fuse specification

F1AL/250V ,two fuses(installed inside pump)

Operating power

AC100~240.0V, 50/60Hz, Power:≤30VA

Internal rechargeable battery: DC 11.1V,capacity≥1600mAh. The device could work constantly more than 4 hour at medium speed running mode, after the battery charged for 10 hours.

Operating environment

temperature:+5~+40°C, relative humidity:20~90%

Storing environment

temperature:-30°C~+55, relative humidity:≤95%, ( No condensation state )

Atmospheric pressure

860hPa~1060hPa

Safety level

Class II with insulated enclosure, internal power supply, BF-type continuous normal running equipment.

IP grade

IPX1

Dimensions

280(L)×210(W)×255(H)(mm)

Weight

3.6kg

Accessories

Power line, operating manual, warranty card, product certification.