MSLIS03 Infusion control machine
1. Drip control device
2. Infusion sets
3. Infusion pump
4. Infusion apparatus

medical infusion pump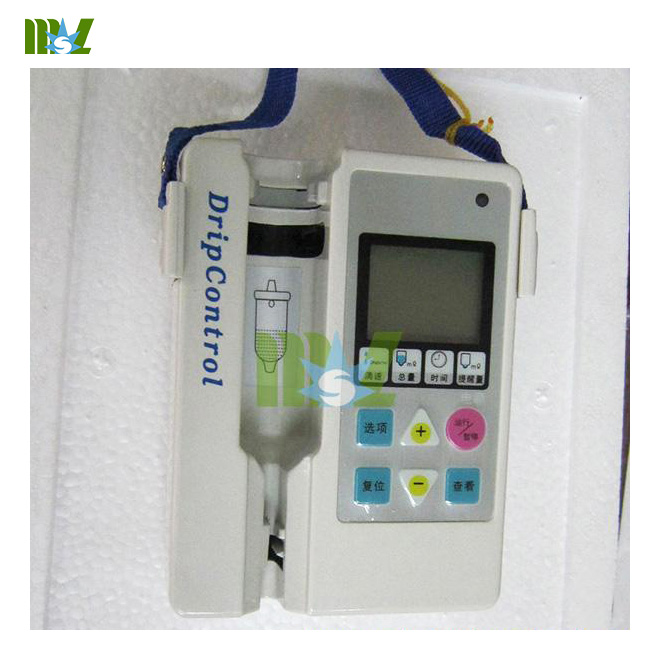 Applicable scope and recommend speed
1. Pediatric: generally 2-3 drops/minute ,To take off the water acidosis infant,within start 8 hours ,suggest 7-8 drops /minute.
2. Obstetrics: When handling premature oxytocin recommend from 8 drops/minute, according to the contractions situation gradually adjusted dripping speed.
3. Cadiac internal and external medicine: Patients without completely function of cardiopulmonary, avoid for cardiac load aggravating and cause acute heart failure or pulmonary edema, routinely recommended 15-30 drops/minutes, on vascular activity from 7-8 drugs recommended drop/minute, according to the blood pressure and condition changes adjust gradually dripping speed.
4. Liver division,NEPHROLOGY: Liver and kidney function in patients with 20 drops/minutes recommended.
5. Cadre ward,Geriatrics Dept.: Geriatrics not exceed 20-30 drops/minute,slow down properly according to Viscera Organ Functions.
6. Oncology: for many antitumor drugs recommended 24 hours, 12 hours to maintain medicine 20-30 drops/minutes, generally don't suggest less than six hours. The specific requirements shall be in reference to a specific chemotherapy regimens.
7. Nerve medicine, surgery: for p: dilantin, benzene benzodiazepines drugs such as static drops of injection velocity shall not be more than 25 drops/minutes.
8. Urologist: recommended 3-8 drops/minutes.
9. Traditional Chinese medicine injection: clear, the senate to phlegmy heat wheat, CanQi, toxic heat ning, safflower, eddy, such as KangYi tcmi should pay special attention to slow down the dripping speed, please refer to the respective specific instructions.
10. Infection families: to erythromycin, of fosfomycin sodium, norfloxacin, with visitors, amino nucleoside antibiotic ancomycin, both sexes should slow down with antibiotics dripping speed to avoid venous inflammation.
11. Nutrition division, surgery: for infusion amino acids, such as fat emulsion parenteral nutrition drug drip speed should be controlled in 10 drops to 15 drops/minutes ,more or less.
12. Other situations: read the instructions and Suggestions detailed according to patients with practical situation transfusion speed.