MSLIS06 IV fluid controller
1.Portable Infusion Pump
2.IV Drip Controller
3.Infusion controller
2.Unique voice alarm system
syringe infusion pump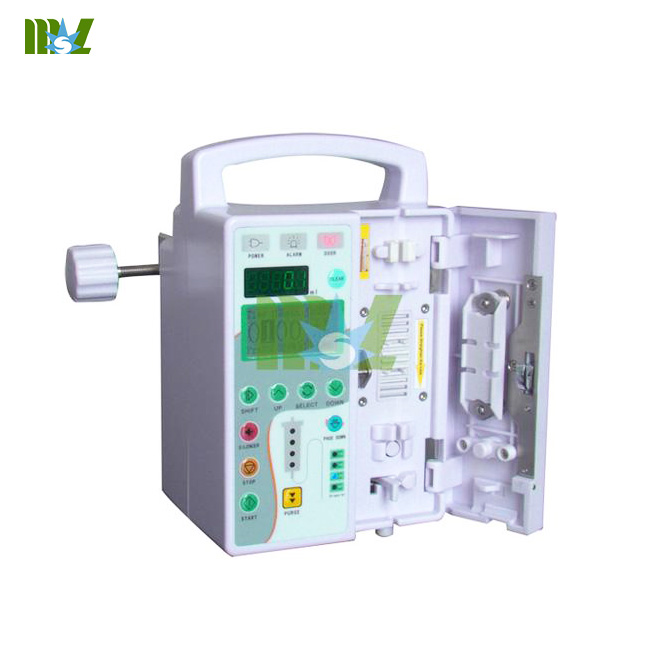 Features & Functions:
1. Bubble detector and pressure sensor can precisely detect tube air bubbles
2. Unique Voice Alarm system and accurate injection rate make the injection process safer and more reliable.
3. HD LCD display working status.
4. Have store many brands IV sets, automatically calibration and compatible with any brand infusion sets.
5. Work mode: ml/h and drop/min, and these two modes can switch freely.
6. KVO and Bolus functions.
Technical parameters:
SPECIFICATION (MSLIS06 Infusion Pump)

Product name

MSLIS06

Unique Voice Alarm system

The device triggered the voice prompt and stop injection automatically when there is any malfunction, making the infusion process safer and more reliable.

Infusion rate

1ml/h~1,200ml/h

Purge rate

100ml/h~1,200ml/h (100 ml/h increment)

KVO rate

1ml/h~5 ml/h (1ml/h increment)

Accuracy

Within ±5% (after correct calibration)

Infusion Volume

1ml~9999ml

Total Infusion Volume

0.1ml~9999.9ml

Occlusion detection pressure

High: 800±200 mmHg (106.7±26.7 kPa)

Medium: 500±100 mmHg (66.7±13.3 kPa)

Low: 300±100 mmHg (40.7±13.3 kPa)

Bubble detector

Ultrasonic wave detector; detection sensitivity ≥25μL

Alarms

End of injection, occlusion, door open, bubbles in the tube, wrong setting, low battery, AC power pulled out etc.

Power

AC100V~240V, 50/60Hz; Internal rechargeable Li battery, capacity≥1,600mAh, 4 hours internal battery backup

Operation conditions

Ambient temperature: +5°C~+40°C;

Relative humidity: 20~90%

Atmospheric pressure: 86.0kpa~106.0kpa

Storage conditions

Ambient temperature: -30°C~+55°C

Relative humidity: ≤95%

Equipment Classification

Class II, internal power supply, Type BF

IP grade

IPX1

Dimension

140mm (L) × 157mm (W) × 220mm (H)

Weight

1.8kg (net weight)

Quality

CE certification