In recent years, with the development of imaging technology, 3D C-arm, G-arm and O-arm have been successively applied to orthopedic surgeries. Doctors can accurately understand the displacement of fractures without incision, which provides necessary conditions for minimally invasive orthopedic surgeries.
What are the advantages of 3D C-arm compared with G-arm and O-arm?
G-arm, also known as G-arm X-ray machine. Two sets of X-ray emission and imaging devices are integrated to generate X-ray from two mutually perpendicular directions and penetrate the human body. Through image intensifier and computer image processing, positive and lateral exposure imaging can be performed on the focus at the same time, and the patient's positive and lateral medical images can be obtained in real time.
It can judge both the position and the depth, increase the accuracy of the operation, reduce the operation time and the X-ray radiation.
The O-arm, the full name is the O-arm 3D intraoperative image navigation system. It can quickly provide the 3D image during the operation to help doctors safely perform the operation. It reduces the risks and complications of spinal surgery, as well as the radiation exposure.Because the O-arm equipment is expensive and requires high operation technology, at present, only a few large hospitals in China have the O-arm equipment and carry out spinal navigation surgery, and few doctors have received formal operation training.
As the "intraoperative CT", the 3D C-arm can quickly generate transverse, sagittal, coronal and rotatable 3D images during the operation. Providing with the 360 ° observation angle, It help doctors accurately judge the situation of bone tissue and implants in all directions. It greatly improve the success rate of the operation, and reduce the probability of complications. It is mainly applicable to orthopedics, spinal surgery, orthopedics, trauma orthopedics and operating rooms.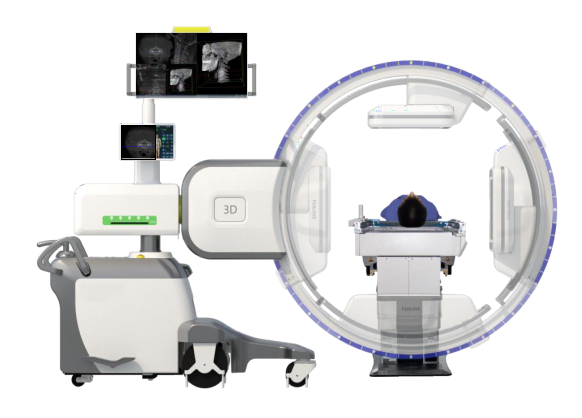 The 3D C-arm of Medical has real-time 3D imaging during operation. The three-dimensional imaging and cross-sectional images during operation provide multi-dimensional surgical diagnosis information to assist doctors in intraoperative evaluation and judgment. Such as fracture reduction and the size and position of internal implanted screws, so as to facilitate better completion of the operation. The FOV of 3D imaging is large, providing a larger 3D imaging FOV during the operation and collecting more image information can take a single shot of the whole cervical spine, the whole lumbar spine, the seven thoracic vertebrae, bilateral sacroiliac joints, femoral head and unilateral pelvis.