Process Development
The photometric biochemistry analyzer is used to optimize culture conditions by monitoring a broad range of medium components. The expandable range of substances allows the user to analyze the growth of a cell culture more in detail. The impact of growth factors and inhibitors on cell cultures can be detected by monitoring lead substrates and metabolites. The efficiency of IgG production can also easily be followed by analyzing IgG concentration via immunoturbidimetry.
Production
In a production environment, monitoring the consumption of substrates, following the level of metabolites in the medium, and getting a quick overview of product yield are of the highest importance. The multi-parameter photometric biochemistry analyzer is capable of collect data on a regular base and receives the results immediately. The photometric biochemistry analyzer delivers a complete set of data within 10~15 min for one sample. All delivered result data can be transferred directly to LIS/LIMS systems.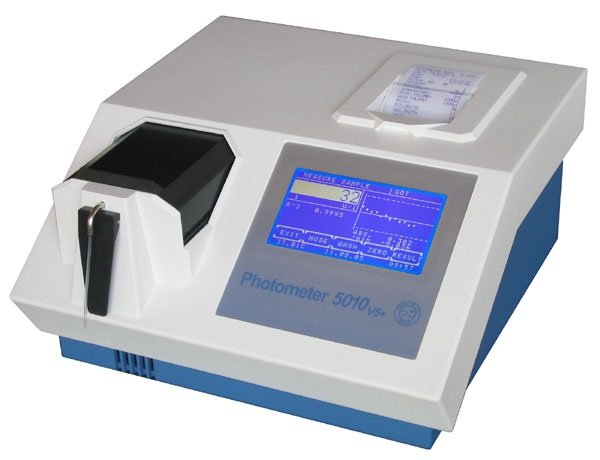 Product Description
The photometric biochemistry analyzer is a compact version of a benchtop, random access biochemistry analyzer, based on the photometric measurement principle. It offers a nearly unlimited, expandable range of measurement applications. A broad range of interesting substances can be detected including substrates, metabolites and products. Kinetic and end point determination of assays are possible. Due to the stability of the photometric assays, recalibration is necessary only from lot to a lot of the selected test method. Barcode detection of reagents and samples ensures a safe and traceable handling of the analysis results. Reagent kits for the detection of ammonia, glucose, glutamine, glutamate, human IgG, inorganic phosphate, Na+, K+, and Cl-, and enzymes, such as alanine aminotransferase, aspartate aminotransferase, gamma-glutamyl transferase, lactate dehydrogenase, amylase, are currently available. However, possible analysis can be expanded to a nearly unlimited range due to the technical measurement principle of the photometric biochemistry analyzer.
Benefits
The photometric biochemistry analyzer delivers a semi-automated platform technology that guarantees highly reproducible results due to its membrane-free measurement principle. The design is geared towards future expansion of the assay portfolio. The quality assurance tools allow for system suitability checks at any time. The compact size of the photometric biochemistry analyzer enables the user to operate the system even in laboratories with limited space.
Technology
The photometric biochemistry analyzer is equipped with a photometric measurement unit that allows for automatic wavelength selection form 340 to 800 nm. Endpoint and rate analysis are possible from 0.1 to 3.0 absorbance.
The integrated ISE module delivers data on Na+, K+ and Cl-.The temperature-controlled incubation reaction unit guarantees reproducible test results. Long-term stability of the reagents onboard is possible due to the cooled reagent container unit.
The system works with disposable, high precision, resin cuvettes which are automatically loaded and discarded. The photometric biochemistry analyzer uses a built-in CPU with an LCD touch panel. In the future, the additional sample port may allow for integration of the photometric biochemistry analyzer into fully automated bioprocesses.
Technical Features
Photometric measurement
The membrane-free technology of the photometric biochemistry analyzer enables highly reproducible test results over a long period of time without requiring permanent recalibration cycles.
Sample capacity
Up to results per one hour are possible; with ISE unit expandable to up to 360 results.
Calibrators and controls
Up to three controls can be defined for each assay. Photometric biochemistry analyzer can be run in compliance with West guard rules. Levey-Jennings plots document the system and assay performance.
Flexible software platform
The photometric biochemistry analyzer can be expanded to a wider assay range without any hardware changes required. The hardware and software architecture allows for easy addition of new analysis methods and it is designed for projects in current GMP regulated environments.
Technical Specifications
Desktop fully automated random access analyzer

General chemistry as photometric or immunoturbidity assay

Up to 90 tests/hour( with ISE up to 360 tests/hour)

Ammonium,glucose, lactate, glutamine, glutamate,human hs IgG,IgG,inorganic phosphate, LDH, Na+,K+,Cl-

Automatic wavelength selection by 8-position filter wheel, bi-Chrom.

20 bottles; cooled by peltier element.

Regent consumption monitoring

Optional external barcode reader for reagent available. Typical reagent consumption.

Tray for 10 samples/controls/calibrators. 2~35ul sample volume. Several sample tubes/containers formats possible. Optional external harcode reader for sample detection available.

Absorbance measurements in cuvettes.

Single line random access. Multi-test analysis

Linear. Spline. Logit-log. Exponential. Point-to-Point.Factor

End point. 2 point end. Rate. 2 point rate. ISE.

Programmable ratios.

24 single-use plastic cuvettes, cuvette temperature adjusted to 370C in IRU, monitored by 2 temperature sensors.

Host query mode. Broadcast download mode.

Uni-directional mode. Bi-directional mode. Built-in PC with touch panel.
Data management system
The data management system software of the photometric biochemistry analyzer tracks quality controls and archives data and monitors system status. The system is LIS interface capable.
Generally speaking, the photometric biochemistry analyzer has many characteristics, including robustness and stability, quality assurance, high throughput, traceability and what are listed above. A biochemistry analyzer is widely used to determine materials in some kinds of samples, such as blood ,urine, and other body fluid quantitatively of qualitatively. And is also one of the best important medical equipments of laboratory department in a hospital.
Guangzhou Medsinglong Medical Equipment Co., Ltd