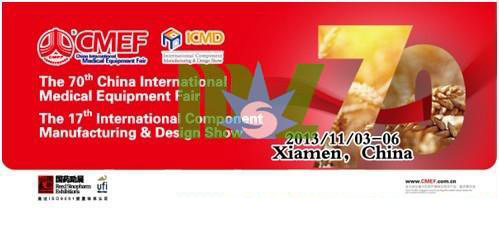 The 70th China International Medical Equipment Fair,the 17th China International Medical Equipment Design and Manufacturing Technology Exhibition yesterday in Xiamen International Exhibition Center was held.State-owned large enterprises focus Lu Yaohua,former chairman of the Supervisory Committee,Mayor Liu Keqing,vice mayor Zhang Canming attended the opening ceremony.

Medical Fair "Innovation and Technology·Wise Link healthcare"as the theme,the Asia-Pacific region's largest medical equipment and related products and services exhibition.The exhibition attracted more than 20 countries and regions,more than 2,800 exhibiting companies at home and abroad,including GE,Siemens,Philips,Mindray,Xinhua,Hitachi and other well-known brands in full participation,as well as from Germany,the United States,Britain,Korea and other 12 countries and regions participating groups,including the Russian Pavilion for the first time exhibitors.Show the total number of booths over 6000,an exhibition area of nearly 130,000 square meters.

4-day exhibition is expected to attract more than 110 countries from around the world and regions,150,000 professional visitors attending the event.During the exhibition there will be more than 40 categories,tens of thousands of products on display categories of medical devices,medical equipments depth coverage of the whole industry chain.Site will also have 600 number of the latest medical technology or product launches,such as Sinopharm equipment will be released devaluation hospital centralized distribution services,GE will release ultra- high molecular breast imaging equipment.

Medical Fair will be held over the same period more than 30 thematic conferences and forums,contains clinical research,policy interpretation,technological innovation,health care finance,international cooperation in five sections.By then,the Xiamen Municipal Health Bureau innovative private medical institutions in China Development Forum Share Xiamen in promoting social capital to do medicine experience.capital to do medicine experience.