CMEF Spring 2017(Shanghai)-MEDSINGLONG MEDICAL
Our booth No. is Hall 2, 2C08
The 77th China International Medical Equipment Fair (CMEF Spring 2017)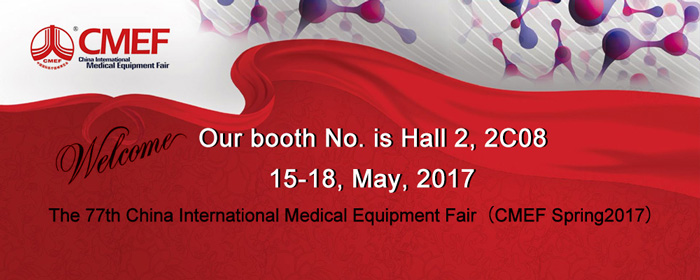 Medsinglong Medical
Guangzhou Medsinglong medical equipment Co., Ltd
#35 Fuhua West Road,Guangzhou,Guangdong Province
Panyu District 511450,China
E-Mail: cindy@medicalequipment-msl.com
http://www.medicalequipment-msl.com/
CMEF Spring 2017 is prepared to start on 15 May and end on 18 May 2017.
The place of the Trade Show will be National Exhibition and Convention Centre which is one of the incredible site for such a serious event.
CMEF Spring 2017 may be a stand where many most important products and solutions would be exhibited. Several of these tend to be about Medical, Health Care, Medical Equipment, Medical Imaging, Healthcare Industry and Medical Devices.
CMEF Spring 2017 is organized twice yearly.
This year more than 110000 industry and academia leaders, and professionals driving change across the world are coming together in Shanghai, China for CMEF Spring 2017.
Reed Sinopharm Exhibitions Co. Ltd is the organizer of CMEF Spring 2017, 77th China International Medical Equipment Fair.
Let Shanghai must do holiday attractions make you fall in love with this city when you are there for CMEF Spring 2017. Here are top notch things to do in Shanghai!

China International Medicinal Equipment Fair (CMEF), launched in 1979, is held twice annually – spring and autumn. After over 35 years of continuous innovation and self-improvement, CMEF has become the largest fair of medical equipment, related products and services in the Asia-Pacific region. The fair widely covers 15,000 products such as medical imaging, IVD, electronics, optics, first aid, rehabilitation nursing, medical IT and outsourcing services, and it serves the entire value chain of medical devices from the source to the end in a direct and all-round way. At each fair, almost 4,000 medical device manufacturers from over 24 countries, and about 120,000 people who are government procurement agencies, hospital buyers and dealers from over 100 countries and regions gather in CMEF for trading and exchanges; With in-depth professional development of the exhibition, CMEF has initiated conference forums and established a series of sub-brands in medical field including CMEF Imaging, CMEF IVD, CMEF IT and ICMD. Now CMEF has become the largest professional procurement and trade platform of the medical industry, the best corporate image release ground as well as a professional information distributing center and an academic, technical exchanging platform.

Shanghai
Shanghai literally means the city by the sea. Shanghai is situated at 31o14' north latitude and 121° 29'east longitude, on the west shore of the Pacific Ocean. It is bordered on the north and west by Jiangsu Province , on the south by Zhejiang Province, and on the east by the East China Sea . Right in the middle of China's east coastline, Shanghai is an excellent sea and river port, boasting easy access to the vast hinterland.
The city is divided into two parts by the Huangpu River: Puxi (west of the Huangpu River) and Pudong (east of the Huangpu River). Puxi is the older part of the city and hosts the majority of shops, restaurants and museums. Pudong is the modern part, and is recognized for its rather unusual yet extremely impressive high-rises such as Shanghai's tallest buildings, the Shanghai International Financial Center, Jinmao Building and the Oriental Pearl TV Tower.