Carotid ultrasound is one of the effective methods for diagnosing and evaluating carotid wall lesions. It plays a key role in the epidemiological investigation of atherosclerosis and the evaluation of the effectiveness of atherosclerosis prevention and treatment trials.
Carotid color Doppler ultrasound can not only clearly show whether the intima of the blood vessel is thickened, whether there is plaque formation, the location and size of plaque formation, whether there is stenosis and stenosis, whether there is occlusion, etc., and can accurately measure And positioning, can also analyze the hemodynamic results of the detection of arteries. In particular, it can detect the presence of early carotid atherosclerotic lesions, so that patients can be promptly prevented and treated. The timely diagnosis of moderate to severe carotid stenosis and occlusion can be used as a powerful basis for clinical treatment of carotid endarterectomy.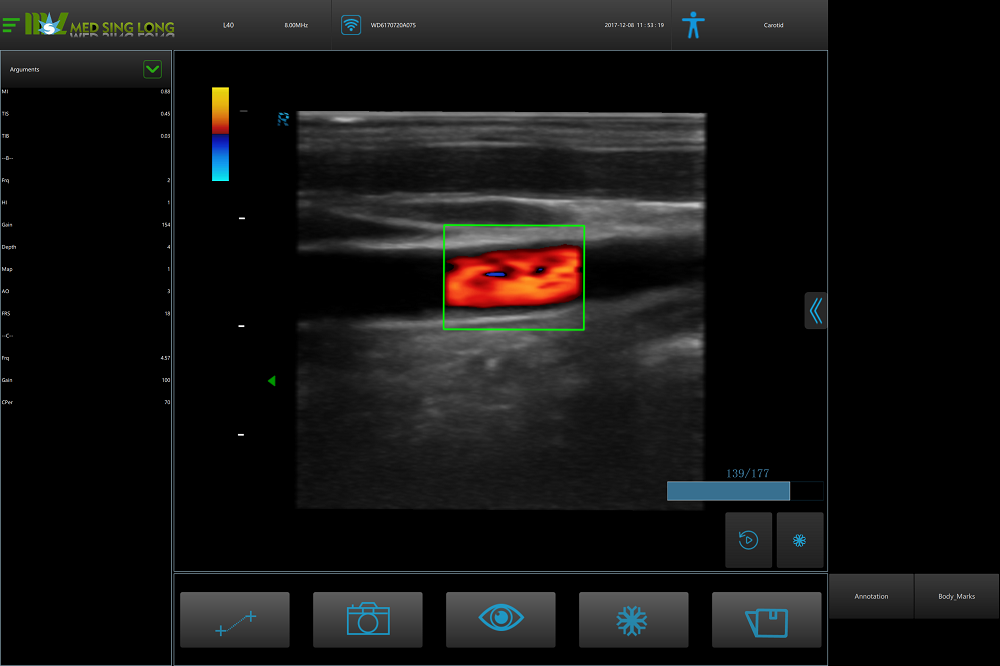 Application
Carotid artery color
Doppler ultrasound
combined with TCD detection technology can timely and accurately observe intracranial and extrahemodynamic changes of ischemic cerebrovascular production, which can improve the detection rate and diagnostic accuracy of intracranial and extracranial cerebral vascular diseases. Provide reliable and objective imaging and kinetic basis for clinical selection of different treatments and effective treatment outcomes.
Examination
Carotid ultrasound
can provide a non-invasive, simple, and reproducible method for the diagnosis of atherosclerosis. However, multi-parameter analysis should be advocated in the analysis of test results. In addition to the relevant vessel segment flow rate, the pulsation index, spectrum morphology, blood flow direction and blood flow sound should be considered.
Carotid ultrasonography can help determine the nature and stability of carotid atherosclerotic plaque in patients with ischemic cerebrovascular disease, determine the extent of carotid atherosclerosis and carotid stenosis, especially in the display of changes in arterial wall structure Advantages provide an objective basis for the early prevention and treatment of atherosclerosis. Active treatment of atherosclerosis and carotid stenosis is important for the prevention of ischemic stroke.
VIDEO