With the addition of the Doppler effect, medical imaging technology can better serve clinical medicine. The advantages of its two-dimensional ultrasound structural images, while at the same time providing abundant information on hemodynamics, practical applications have received widespread attention.
Transcranial:
Transcranial Doppler (TCD) and Transcranial Color Doppler (TCCD) measurements of blood flow velocity through the blood vessels of the brain (through the skull). These medical imaging modes perform spectral analysis of the acoustic signals they receive, and can therefore be classified as active acousto-optic reimaging methods. They were used as tests to help diagnose emboli, stenosis, and vasospasm caused by subarachnoid hemorrhage (ruptured hemorrhagic aneurysm).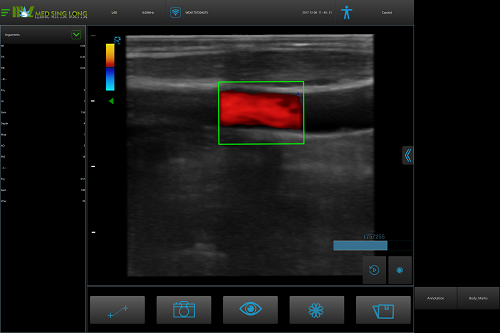 Blood vessels:
Ultrasound examination of blood vessels helps determine various factors within the circulatory system. It can assess the central (abdomen) and peripheral arteries and veins; it helps determine the number of arterial stenosis (stenosis) or occlusion (complete blockage); it helps rule out aneurysmal disease; this is to exclude thrombotic events The main assistance. Duplex is a cheap, non-invasive method for determining pathology. It is used, for example, for carotid ultrasound; ultrasonography for deep venous thrombosis; ultrasound for chronic venous insufficiency in the legs.
Kidney:
Doppler ultrasound is widely used for renal ultrasonography. Color Doppler techniques easily portray renal vessels to assess perfusion. Applying spectral Doppler to the renal artery and the selected interlobular artery, peak systolic velocity, resistance index and acceleration curve can be estimated. For example, renal artery peak systolic velocity above 180 cm / s is a predictor of renal artery stenosis exceeding 60%. And the resistance index calculated from the systolic peak velocity and the end-systolic contraction velocity higher than 0.70 indicates abnormal renal vascular resistance.
Heart:
Doppler echocardiography is the use of Doppler ultrasound to examine the heart. An echocardiogram can be used within certain limits to produce an accurate assessment of blood flow and velocity in the direction of the blood and heart tissue using the Doppler effect at any point. One of the limitations is that the ultrasound beam should be as parallel as possible to the blood flow. Velocity measurement allows assessment of heart valve area and function, any abnormal communication between left and right sides of the heart, any leakage of blood through the valve (valve regurgitation), calculation of cardiac output and calculation of E / A ratio (diastolic function) Measure of obstacles). Contrast-enhanced ultrasound using gas-filled microbubble contrast agents can be used to improve velocity or other flow-related medical measurements.
Fetal monitor:
Doppler effect is used to detect prenatal examination of fetal heartbeat. Some also show heart rate per minute (BPM). The use of this display is sometimes referred to as Doppler auscultation. Doppler fetal monitors are often referred to simply as Doppler or fetal Doppler. The Doppler fetal monitor provides information about the fetus similar to that provided by the fetal stethoscope.
There are many usage of Doppler effect. We believe that the future development of medical imaging technology will be more scientific and convenient, so that our health is more secure.