Ventilator is a tool to implement mechanical ventilation; it has been widely used in clinical anesthesia and ICU, and improves the patient's oxygenation and ventilation, reducing the work of breathing, respiratory and circulatory support functions, as well as treatment of respiratory failure. As early as in 1796, Herholar and Rafn had a special report that the application of artificial respiration method enables to saving drowning patient, 1929 Drinker and Shaw successfully developed the automatic iron lung.
Until around World War II, has gradually understood the principles of mechanical ventilation and respiratory support for post-cardiothoracic surgery. 1952 Scandinavia polio epidemic, more than four months in the hospital for treatment of Copenhagen 2722 patients, of which 315 required respiratory supports, Ibson emphasize respiratory support Aikido management, the overall mortality rate from 87 % to 30%. Since then people have realized the importance of mechanical ventilation. Thus various types of ventilator came out gradually, especially in recent years, with the ventilator in the field of micro-computer technology; the ventilator has been the rapid development of technology, performance gradually improved.
Currently, the medical ventilator machine type and model is very much to use a different approach. But no matter how ventilator product type and model improve and update its therapeutic effect substantially the same as its treatment effects include: to improve the ventilation, improve the ventilation function and reduce power consumption and save breath cardiac reserve capacity.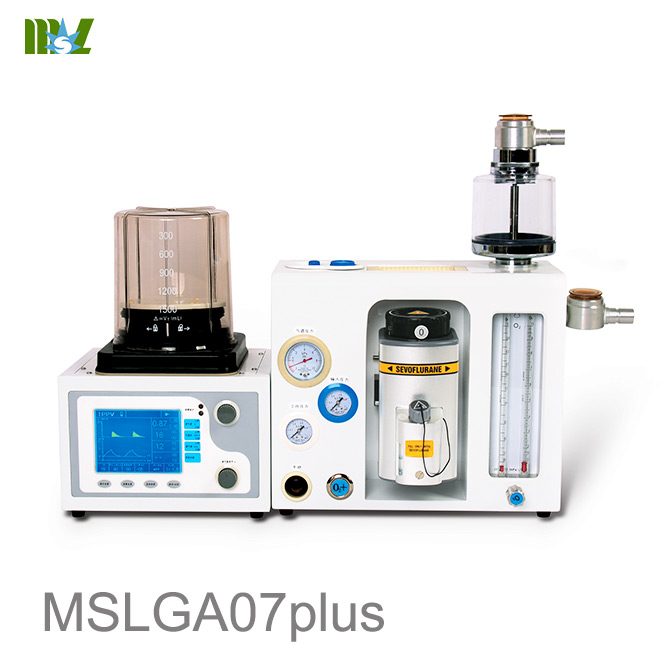 1, Improve the Breathing system:
This is the basic therapeutic effects of medical Portable anesthesia machine. Before linking the ventilator, the general should be endotracheal intubation or tracheotomy to maintain airway patency. When the normal frequency ventilation and reasonable positive pressure breathing convection can achieve adequate tidal volume, the number of mechanical ventilation may also need to be adjusted in order to maintain adequate ventilation to ensure that the needs of patients. HFV use high frequency diffusion and convection airflow to promote.
2, Improve the aeration function:
In recent years, due to the development of a deep understanding of respiratory physiology and ventilator research, using some special ventilation mode at the ventilator therapy(hot sale anesthesia machine), such as PEEP respiratory, expiratory extended by inspiratory time, inspiratory hold etc., improved pulmonary gas partial pressure of oxygen and the uneven distribution of ventilation flow imbalance, reduce pulmonary shunt, thus improving aeration function, improve the arteries. Current treatment range from simple ventilator dysfunction developed to the serious dysfunctions ventilation disorders, such as adult respiratory distress syndrome.
3.Reduce the breathing system consumption, saving cardiac reserve capacity:
Ventilator can reduce the load respiratory muscle action to reduce oxygen consumption, improve hypoxia help to restore and respiratory muscle fatigue, but also it's very significantly to reduce the load on the heart, which after thoracic surgery patient's recovery is particularly important.
MEDSINGLONG GLOBAL GROUP CO.,LTD offers a range of medical products,such as Ultrasound machine, X-ray machine, Dental equipment, Autoclaves, ECG, Blood analyzer, Biochemical analyzer, Vet equipment, Radiation protection equipment and so on. Whether the hospital or clinic, or for personal use, you can find your own favorite products. Our mission is not to be the best, but better! We are ready to serve you. If you have any needs and questions, with Medsinglong Global Group CO.,Limited,Contact E-mail:Cindy@medmsl.com

Related Posts
Patient from the ventilator conditions and methods to use the ventilator and under what circumstances?
portable ventilator machine weaning is conditional,not just off of.Achieve at least under the following conditions in order to consider offline:......
14 methods to help you how to choose animal anesthesia machines
How to choose animal anesthesia machine?First need to understand the general function of the small animal anesthesia machine:......
10 types of anesthesia machines and principles
Ordinary domestic anesthesia machine cost about RMB100,000,if accompanied by a monitor anesthesia machine will probably cost around RMB200,000,general type anesthesia machines which is imported will more than RMB200,000-300,000 and above.The type of anesthesia machines are classified according to high and low flow,technicians from MSL Guangzhou provide some professional tips to know about the type of anesthesia machines,as below:......