Oil-free air compressor belongs to a miniature reciprocating piston compressor.When the single-axis motor-driven compressor crankshaft begins rotation,through the connecting rod drive,the piston,with self-lubricating without adding any lubricant,will reciprocate by the help of connecting rod's transmission,and actual displacement (consists of inner wall of the cylinder,cylinder head and piston top surface) cyclical changes.When the piston compressor piston begins to move from the cylinder head,the working volume of the cylinder increases,this time,i.e.,along the gas inlet pipe,pushed into the intake valve and the cylinder,the working volume until the date is changed to the maximum ,the intake valve closing; reverse movement of the piston when the piston compressor,the cylinder working volume reduced,the gas pressure increases,when the cylinder pressure reaches the discharge pressure and slightly above,the exhaust valve opens,exhaust gas cylinder until the piston is moved to the limit position is reached,the exhaust valve is closed.When the piston compressor piston reverse movement again,the above process is repeated.

medicalequipment-msl Group is perfect in the after-sale service of oil-free air compressor.We have professional technology and lifetime matenance,which helps you save time and money.Should there be any problems,please contact our technical engineers:cindy@medicalequipment-msl.com.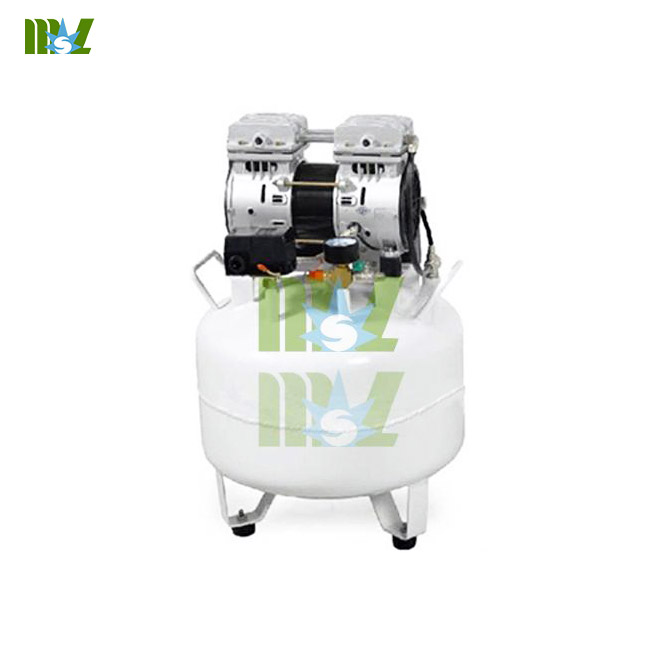 Crankshaft revolution piston compressor,reciprocating piston,have realized the cylinder intake,compression and exhaust process,to complete a cycle of work.The structural design of the compressor uniaxial cylinder gas flow rate of twice the single-cylinder rated at a certain speed,and the vibration noise control have been well controlled.Machine works: the motor is running,air enters through the air filter in the compressor,the compressor compressed air,compressed gas cylinders to open the check valve into the flow through the pipeline,pressure gauge pointer shows will rise to 8 Bar ,.When more than 8 Bar,induction tract pressure after pressure switch automatically turns off the motor to stop working,while the solenoid valve air pressure inside the compressor head discharge to zero.Declared when the air pressure switch,gas pressure inside the tank is still 8 Bar,gas exhaust valve driven by the device connected to the work.5 Bar pressure drop to the air reservoir,the pressure switch automatically turns on by sensing the compressor start working again

Best Oil-free air compressor is oil-free in the screw cavity.It's usually used in industry which needs clean air such as pharmaceutical and textile industry.While there's oil inside the transmission case,thus,it needs Regular Maintenance.

Related Posts
The varieties of air compressor
There are many kinds of cheap air compressor,we'd like to introduce the following 11 kinds for you......