Human medicine
Medical sonography (ultrasonography) is an ultrasound-based diagnostic medical imaging technique used to visualize muscles,tendons,and many internal organs,to capture their size,structure and any pathological lesions with real time tomographic images.Ultrasound has been used by radiologists and sonographers to image the human body for at least 50 years and has become a widely used diagnostic tool.The technology is relatively inexpensive and portable,especially when compared with other techniques,such as magnetic resonance imaging (MRI) and computed tomography (CT).Ultrasound is also used to visualize fetuses during routine and emergency prenatal care.Such diagnostic applications used during pregnancy are referred to as obstetric sonography.As currently applied in the medical field,properly performed ultrasound poses no known risks to the patient.Sonography does not use ionizing radiation,and the power levels used for imaging are too low to cause adverse heating or pressure effects in tissue.Although the long-term effects due to ultrasound exposure at diagnostic intensity are still unknown,currently most doctors feel that the benefits to patients outweigh the risks.The ALARA (As Low As Reasonably Achievable) principle has been advocated for an ultrasound examination – that is,keeping the scanning time and power settings as low as possible but consistent with diagnostic imaging – and that by that principle non-medical uses,which by definition are not necessary,are actively discouraged.

best Ultrasound is also increasingly being used in trauma and first aid cases,with emergency ultrasound becoming a staple of most EMT response teams.Furthermore,ultrasound is used in remote diagnosis cases where teleconsultation is required,such as scientific experiments in space or mobile sports team diagnosis.

According to RadiologyInfo,ultrasounds are useful in the detection of pelvic abnormalities and can involve techniques known as abdominal (transabdominal) ultrasound,vaginal (transvaginal or endovaginal) ultrasound in women,and also rectal (transrectal) ultrasound in men.




Veterinary medicine
Diagnostic ultrasound is used externally in horses for evaluation of soft tissue and tendon injuries,and internally in particular for reproductive work – evaluation of the reproductive tract of the mare and pregnancy detection.It may also be used in an external manner in stallions for evaluation of testicular condition and diameter as well as internally for reproductive evaluation (deferent duct etc.).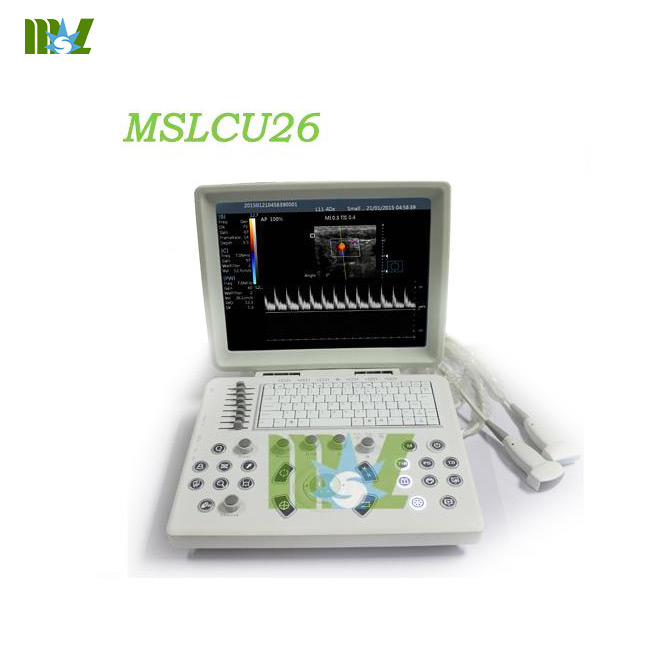 Starting at the turn of the century,ultrasound technology began to be used by the beef cattle industry to improve animal health and the yield of cattle operations.Ultrasound is used to evaluate fat thickness,rib eye area,and intramuscular fat in living animals.It is also used to evaluate the health and characteristics of unborn calves.

Ultrasound technology provides a means for cattle producers to obtain information that can be used to improve the breeding and husbandry of cattle.The technology can be expensive,and it requires a substantial time commitment for continuous data collection and operator training.Nevertheless,this technology has proven useful in managing and running a cattle breeding operation.

Related Posts
14 ways to teach you how to choose and judge a good B ultrasound
Vet ultrasound machine is an equipment which is emerging in recent years to be used to examin animal pregnancy and it has a large market in the domestic.In recent years,all kinds of large and small manufacturers of veterinary B ultrasound spring up......
Teaching you how to determine a ultrasound machine whether good or not?
Teaching you how to determine a veterinary ultrasound machine whether good or not......