4D B&W ultrasound is the most advanced black and white ultrasonic equipment in the world. 4D ultrasonic technology is based on the 3D ultrasonic image and with the time dimension parameters, which can obtain the 3D image in real time.The 4D ultrasound can be used to check the abdomen, blood vessel, organelle, gynecology, urology, newborn, pediatrics, etc. Also the 4D ultrasound can show the dynamic image in real time for the unborn baby or the dynamic images for other internal organs.
Ultrasounds,sometimes referred to as sonograms,are medical tests that use high frequency sound waves to produce pictures of the organs in the body.In the case of pregnancy,ultrasounds are routinely prescribed to produce an image of the fetus.MSLCU18 4D ultrasound uses a special sonogram machine and takes images from a few different angles,which reveal more detailed images of the fetus,such as facial features.It can also capture movements made by the baby during the procedure.
A standard ultrasound only provides a two-dimensional image of the fetus.They are usually ordered in pregnancy for a variety of reasons,such as evaluating development of the baby,determining gestational age,and identifying any abnormalities.Although the standard ultrasound produces a picture of the fetus,it may take a trained sonographer or other medical professional to identify features and body parts.Keepsake photos are given to the patient,but they are often grainy.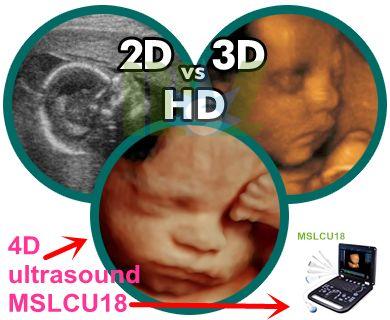 3D scans show still pictures of your baby in three dimensions.4D scans show moving 3D images of your baby,with time being the fourth dimension.It's natural to be really excited by the prospect of your first scan.But some mums find the standard 2D scans disappointing when all they see is a grey,blurry outline.This is because the scan sees right through your baby,so the photos show her internal organs.With 3D and 4D scans,you see your baby's skin rather than her insides.You may see the shape of your baby's mouth and nose,or be able to spot her yawning or sticking her tongue out.
3D and 4D scans are just as safe as 2D ultrasound,because the images are made up of sections of two-dimensional images converted into a picture.There's no evidence to suggest that the scans aren't safe,and most mums-to-be gain reassurance from them.Nonetheless,any type of ultrasound scan should only be performed by a trained professional.Bear in mind that MSLCU18 3D and 4D ultrasounds are more about bonding with your baby than diagnosing problems.
The best time to have a 3D or 4D ultrasounds is when you're between 26 weeks and 30 weeks pregnant.Before 26 weeks your baby has very little fat under her skin,so the bones of her face will show through.After 30 weeks,your baby's head may go deep down in your pelvis,so you may not be able to see her face.If the placenta is at the front of your womb (uterus),known as anterior placenta,you'll get the best images of your baby if you wait until 28 weeks.It's natural that you'd like to see your baby's face on the scan.But sometimes it's not possible,depending on how she's lying.
Standard ultrasounds are ordered by a healthcare professional and performed at a clinic,a doctor's office,or at an ultrasound imaging center.4D ultrasounds do not require a specific order and are often done at a private ultrasound business,which specializes in keepsake images.The procedure is non-invasive and takes about 20 minutes to complete.
MSLCU18 3D or 4D ultrasounds Applications:General, OB/GYN, Cardiology, Urology, Small organ, etc,Real-time Dynamic Aperture (RDA),Dynamic Receiving Focus (DRF),One-click optimization: Preset various calculation formula, diagnostic parameters, case library, etc,File management: Image save, video save, examination report auto-generation,Peripheral ports: USB2.0/ Video/ /S-video/RS-232/ DICOM3.0,4D imaging software package
MSLCU18 3D or 4D ultrasounds is no longer just feeling the baby's breathing and movement, but can see their every move and cunning show capacity.More importantly, the four-dimensional black and white and super all-round, multi-angle to observe intrauterine fetal growth and development of the situation, for the early diagnosis of fetal congenital body deformity and provide accurate scientific basis for congenital heart disease.The past can only check the physical index of fetal ultrasound equipment, and four dimensional colour to exceed can inspection on fetal body surface, such as a cleft lip, spina bifida, brain, kidney, heart, skeletal dysplasia and so on, so that the treatment as soon as possible, have a smart and healthy baby.Four dimensional colour to exceed to the house photo, the mother saw the house baby's every move, experience to the baby's voice!And four dimensional super black and white can put the four dimensional colour to exceed the baby * of the dynamic burning DVD as baby 0 years old photo!Permanent as a souvenir!
This article comes from WIKI:http://en.wikipedia.org/wiki/3D_ultrasound
4D ultrasound machine video show