Color Doppler mode: CFM, PDI, PW,CW,CPD
Display mod: B, 2B, 4B, B/M, B/C
Triplex: Real-time simultaneous 2D, Doppler & CFM
Duplex: Real-time simultaneous 2D, Doppler
Gray scale: 256
Display: 15LCD monitor
Transducer frequency: 2.5-10Mhz
Scanning depth: 300mm
Portable Full Digital Color Doppler Ultrasound equipment
high quality color doppler ultrasound equipment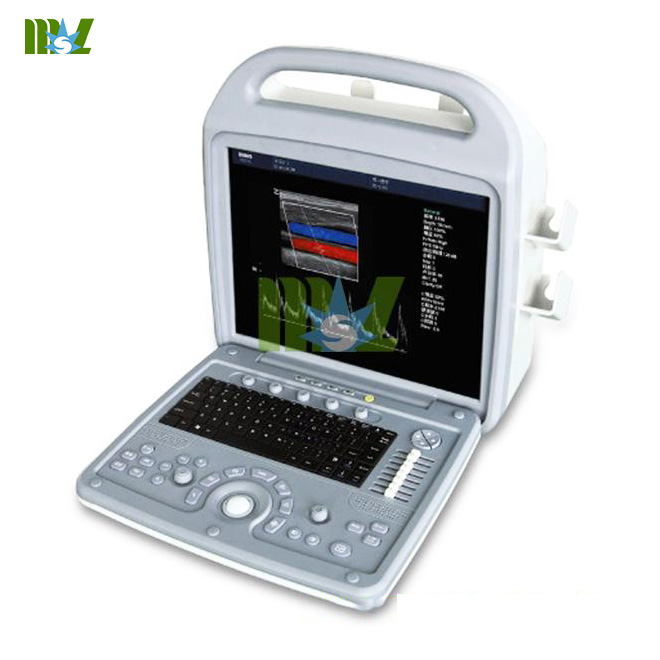 Technical specifications
1. Full-digital color ultrasound diagnostic system, the system has the ability to upgrade
2. Frequency Range :2.0-14MHz
3. Probe types: convex array, linear array, heart and cavity probes
4. Display: B / M (B-mode Ultrasound Imaging (The Definition of B Mode Ultrasound )), (M Mode Ultrasound Definition), B / D, B / CD, B / D / CD may be the same screen display, M type and scope of PWD icon size
adjustable
5. Frequency Probe Specifications:
a) Abdomen convex array probe: 2.0 ~ 5.0MHz electronic convex array broadband probe frequency, the frequency
range 2 - 5MHz, 3 selectable frequencies Bandwidth
b) E-broadband frequency linear array probe, the frequency range 5 - 14MHz, scan angle: 60 degrees
c) The heart of the broadband probe frequency: frequency range 2 - 4MHz, the probe scanning angle :10 - 85
degrees, stepless adjustable
d) Intracavity frequency convex array broadband probe, the frequency range 4 - 8MHz, scanning angle ≥ 135 °
e) Optional pediatric cardiac probe, transesophageal probe, laparoscopic probe, tiny protruding array probe,
intraoperative probes.
6.Probe array element: ≥ 128
7.Image Mode: two-dimensional B-, M-type, pulsed PWD / Continuous CWD Doppler and unit of analysis,
color CFM / power Doppler and direction of the Energy PDM
8.B / D use either: B / PWD, B / CWD, B / CD / PWD three simultaneous display
9.Digital full anatomical M-imaging techniques, the sampling line can be anywhere in the 360-degree range
as the center of arbitrary sampling
10.Organization of second harmonic imaging, harmonic function ≥ 2 groups
11.B / M / CD can be adjusted independently
12.Resolution: Lateral ≤ 2mm, longitudinal ≤ 1mm
13.detecting depth: ≥ 240mm
14.system dynamic range ≥ 140dB
15.15cm deep, full-view scans, anatomical M-frame rate ≥ 120 / s (for pictures)
16.Image playback video: frame by frame, continuous playback of ≥ 300 frame.
17.Focus: Emission ≥ 8 segment focus, to receive: continuous dynamic variable aperture, dynamic
apodization digital focusing
18.Scan Line: Every frame linear density ≥ 400 Ultrasonic Line
19.Measurement and Analysis
20.Character Tags: shows the date, time, patient's name, user name, etc., custom note table, probe,
frequency and body marked, with a puncture and guide lines
21.keyboard operation: Sino-British operation interface
22.position markers: ≥ 30 Zhong with the location of the probe position markers
23.Color Doppler display modes: speed dispersion shows that the energy shows that dispersion Show
24.display position adjustment: linear array scanning range of interest: -20 ° - +20 °
25.Doppler flow velocity: The maximum blood flow velocity measurements: PWD ≥ 6m / s; the highest
single measurement of a continuous Doppler velocity ≥ 10 m / s minimum flow velocity measurements:
PWD ≥ 10mm / s
26.width and location of sample volume adjustment :0.5 - 20mm adjustment classification
27.with a Doppler angle correction function for sampling and then
28.Display: ≥ 15-inch high-resolution progressive-scan LCD displays, can be rotated up and down Move left
29.Probe Interface:2 units
30.picture archiving and management
Dynamic and static image real-time hard drive storage capabilities, the host built-in hard disk ≥ 160G.
a) Built-in DVD drive with a recording can be carved directly to the medical records of the CD-ROM to save.
b) Playback of the spectral image can also be synchronized audible sounds
c) There was a picture online clipboard functions: real-time scan, only one button operation, can be dynamic
and static ultrasound images are stored in the screen side of the clipboard, you can always transfer out of
contrast observation.
d) The original data acquisition and processing capabilities, can playback dynamic and static image
post-processing capabilities, and can convert directly to the image avi, tif, Bmp, and other common format computer
31.Input / Output Signal Interface: PAL-D, USB, RS-232, VCR, RGB, USB,, VGA port, etc.
32.Supply Voltage: AC 220V ± 10%.