In thefirst approach, patients are transported from the OR to the radiation therapy department and the IORT treatment is delivered on one of the department's linear accelerators that normally treats outpatients with external beam therapy.Thus IORT is blended in with the other treatments.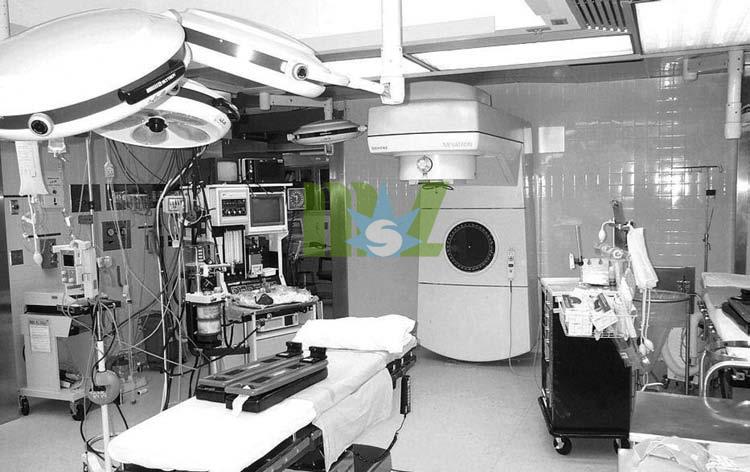 Figure1.MevatronME by Siemens Medical Systems located in an OR.Note that the machine is a conventional accelerator whose gantry (C-arm) support system is mounted in the end wall.Since the room is slightly oversize for an OR room at this hospital, this still leaves adequate room for surgery.
In the second approach, IORT treatments are delivered on a dedicated machine.Dedicated linear accelerators are those accelerators that are used exclusively for the treatment of patients through the intraoperative technique.The word dedicated is used here to mean that the linear accelerator, conventional [X rays(x ray machines for sale) plus electrons or electron-only] or mobile, is used exclusively for IORT.It is recognized here that no more electron-only linear accelerators of the conventional, non-mobile type, will be built in the future.
Dedicated linear accelerators may be located in the OR itself or in a room in the radiotherapy department.If the former, the room is basically an OR that also contains a linear accelerator.
If the latter, it is a radiotherapy room that is equipped as an operating room.The former is preferred since it is part of the total OR complex and the patient does not have to be moved outside the room.In the latter case, the patient undergoes surgery far from the hospital's main OR and issues of maintaining sterility of the operating area have to be addressed as well as the problem of what to do if a surgical emergency arises for which the satellite OR is not equipped to cope.There are currently very few dedicated units in the OR in the United States; there are slightly more located in the therapy department.
For the non-dedicated linear accelerator, the need to transport the patient for each case from the OR to the radiotherapy area is a disincentive to the IORT program.For this reason, programs using nondedicated linear accelerators have seen a decline in numbers (see Fig.4).It is highly unlikely that any more dedicated units of the conventional or electron-only type will be installed in the United States in the future for the reasons outlined above.An example of a dedicated electron-only linear accelerator located in the OR is shown in Figure1.The room measures ~6.1 * 8.0m and the unit is mounted into the wall at one end, ensuring an adequate space for surgery.Experience has shown that centers with dedicated OR suites or mobile systems perform more IORT procedures(automatic x ray film processor) than centers that use the patient transport technique.