Since the discovery of X-rays, two-dimensional (2-D) radiographic imaging has been the most widely used approach for ultrasound imaging anatomic structures, diagnosing disease, and guiding interventions . Unfortunately, 2-D X-ray imaging cannot provide physicians with a complete set of information fo imaging the human body although 3-D CT, MRI, and X-ray techniques are important imaging modalities, 3-D ultrasound machine has been shown to play a major role in medical diagnostics and minimally invasive image-guided interventions.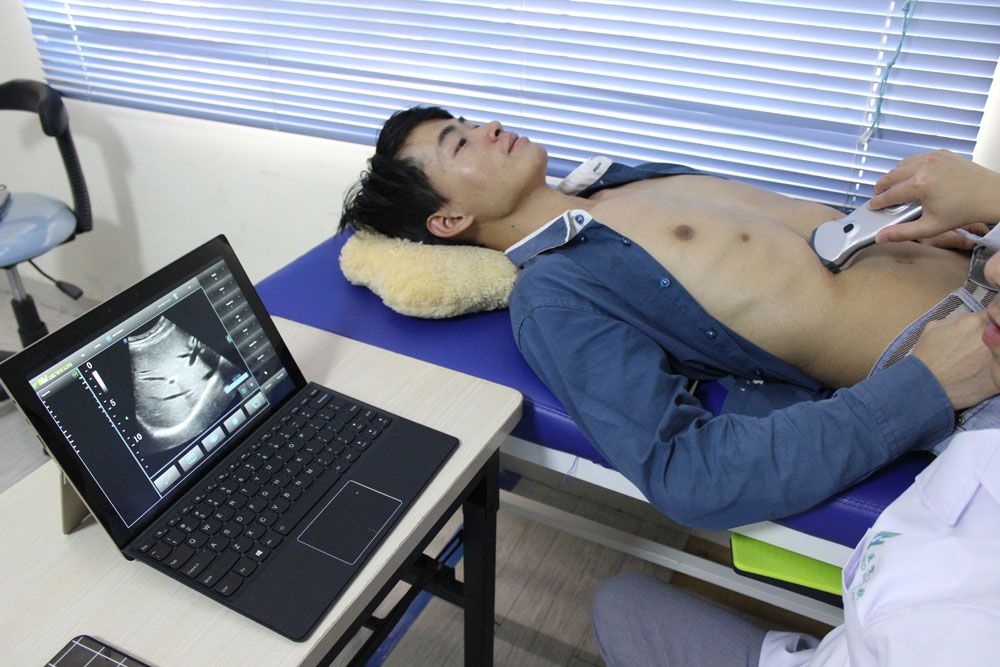 The basic concept of 3-D ultrasound is to collect a data of 2-D ultrasound images (black &white of color ) while tracking and storing the location of each individual 2-D image . The data set is then reconstructed into a single 3-D volume that can be displayed on the screen and manipulated. The reconstructed 3-D volume can be rotated, sliced, rendered or displayed in multiplanar cross-sections. Three-dimensional ultrasound imaging has provided high-definition images of complex anatomic structures and pathology to diagnose disease and to monitor and guide interventional procedures.
Although 2-D arrays are available for real-time 3-D imaging, most low-cost 3-D ultrasound imaging systems use conventional one-dimensional (1-D) ultrasound transducers to acquire a series of 2-D US images. These images are reconstructed to form a 3-D image. A wide variety of approaches have been developed to determine the position and orientation of the 2-D images within the 3-D image volume. The production of a 3-D ultrasound image volume, without any distortions, requires that three factors be optimized:
The scanning technique must be either rapid (e. g., real time) or gated to avoid image artifacts due to involuntary, respiratory, or cardiac motion.
The locations and orientations of the acquired 2-D ultrasound image must be accurately known to avoid geometric distortions in the 3-D ultrasound image, which could lead to errors of measurement and guidance.
The scanning apparatus must be simple and convenient to use, so that the scanning process can be easily added to an examination or interventional procedure.
Because a set of 2-D ultrasound images is used to reconstruct the 3-D ultrasound image, the transducer must be moved so that the set of acquired 2-D ultrasound images covers the region of interest. However, a 2-D array allows the transducer to remain stationary , an electronic scanner is then used to sweep the ultrasound bean over the entire volume, allowing for the acquisition of a set of 3-D images to occur in real time (i.e. , 4-D ultrasound imaging ).
In this approach , a 2-D phased array of transducer elements is used to transmit a broadly diverging beam of ultrasound away from the array, sweeping out a volume shaped like a truncated pyramid. The returned echoes detected by the 2-D array are processed to display a set of multiple plane in real time . Using various image rendering techniques, user can interactively control and manipulate these planes to explore the entire volume. This approach is successfully used in echocardiography.
Many algorithms have been developed to help physicians and researchers visualize and manipulate 3-D medical images interactively. Because ultrasound image suffer from image speckle and poor tissue-tissue contrast, the display of a 3-D image plays a dominant role in the ability of physician to obtain valuable information.
Moreover, Doppler ultrasound technology also be developed, for example. Spectral Doppler scanning displays information about the spectrum of flow velocities as a function of time. It is sometimes called FFI (Fast Fourier Transform) because the information is presented as a frequency spectrum indicating velocity components.