What is bacterial pneumonia
Bacterial pneumonia accounts for 80% of all kinds of pathogenic pneumonia in adults. Since the era of antibiotics, the prognosis of bacterial pneumonia has been significantly improved, but the mortality rate has remained high since the 1960s. At present, there are some new features of bacterial pneumonia, including pathogens. Spectral changes, especially the rate of G-bacillus infection in hospitals, have risen significantly.
Although Streptococcus pneumoniae still dominates the community-acquired pneumonia pathogen, clinical manifestations tend to be atypical. Bacterial resistance rates are increasing, and so-called "refractory" pneumonia is common, especially in children, the elderly, and immunosuppressed patients. The incidence of etiological diagnosis is improved, rational use of antibiotics is prevented, the emergence of drug-resistant bacteria is prevented, and support is improved. Treatment is an urgent need to emphasize and solve problems in the clinical treatment of pneumonia.
Inspection Method
(A) chest
X-ray
examination: The most common manifestation of bronchopneumonia type changes, usually does not help determine the pathogen of pneumonia, but some features can be prompted for diagnosis, such as consolidation of the lung, empty formation or a large amount of pleural effusion More common in bacterial pneumonia, staphylococcal pneumonia can cause significant lung tissue necrosis, pulmonary airbags, lung abscess and empyema, gram-negative bacillus pneumonia is often a lower bronchial pneumonia, easy to form multiple small abscesses, diagnosis of pneumonia There are important values, inflammatory infiltrating shades of the site, scope, whether the empty, pleural effusion and other pathogens.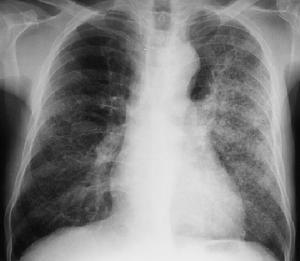 Pneumonia X-ray findings of different pathogens
X-ray findings Pathogens Leaf or segment Low-density flaky invasive Streptococcus pneumoniae, Haemophilus influenzae, Klebsiella pneumoniae, Escherichia coli, Legionella inhomogeneity (plaques or cord-like shadows) Mycoplasma pneumoniae, Virus, Disgust Oxygen and non-anaerobic bacteria mixed infection, Legionella diffuse homogeneous infiltration or nodular shadow Legionella, virus, Pneumocystis carinii, Mycobacterium, Aspergillus, Candida, Hematogenous dissemination Invasive infiltration of Staphylococcus aureus, Gram-negative bacteria, Anaerobic bacteria, Mycobacterium tuberculosis, Aspergillus
(b) bacteriological examination: sputum or pleural effusion smear test, culture of pathogens and antibiotic susceptibility test. Two or three consecutive times for the same bacteria to grow, the possibility of pathogenic bacteria, only once positive or multiple different bacterial growth, the reliability is poor, bacterial concentration ≥ 107cfa/ml for pathogenic bacteria, 105 ~ 107cfa/ml for Suspected, <105cfa/ml mostly contamination.
(C) blood tests: white blood cell count and neutrophils are generally increased, there may be nuclear left, older or in severe cases, white blood cell count may not increase.
(D) immunological examination: the use of immunofluorescence, enzyme-linked immunosorbent assay, counter immunoelectrophoresis and other methods to detect serum pathogenic bacteria antigens or antibodies, help diagnosis. Polymerase chain reaction has certain significance for the detection of pathogens.
(E) Other tests: If necessary, perform blood gas analysis, liver and kidney function, and serum electrolyte examination.