Benign breast tumor clinical manifestations
Breast tumors are common and account for about two-thirds of breast diseases. The proportion is roughly benign breast tumor, breast cancer and other breast diseases, each accounting for about 1/3.
More common in breast benign tumors are adenofibroma and intraductal or intracapsular papilloma.
Malignant breast cancer has cancer, sarcoma and carcinosarcoma. Breast cancer accounts for the majority.
Excess breast tumor: A tumor that grows on the excess breast and is called an unwanted breast tumor. It can be benign or malignant, with cancer being more common.
Male breast tumors: benign tumors have cysts, adenomas, lipomas, and papillomas. Malignant cancer and sarcoma.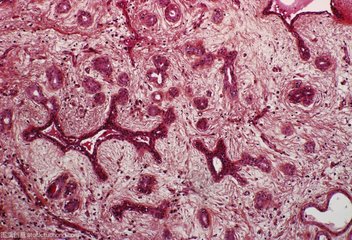 Breast benign tumor
Breast adenoma: The most common young women aged 20 to 25 years. Usually more than a single, there may also be more than one side or both sides of the breast appear. The occurrence of breast adenoma is closely related to estrogen stimulation (strong ovarian function). Therefore, it rarely occurs in menstrual cramps or postmenopausal women.
Clinical manifestations: Breast fibroids are located in the outer quadrant of the breast. Often oval, small cherry big or walnut, but may have greater. The general tumor surface is smooth and hard. The state of the tumor is clear and there is no adhesion with the skin and surrounding tissues. Can be pushed around the breast without any resistance. Although the push can be moved, let go and return to the original position. More than no spontaneous pain and tenderness.
Breast duct or intracapsular papilloma: The disease is rare, mostly 40 to 50-year-old women. Can be single or multiple. Tumors are often located in the dilated milk ducts of the nipple, or in the cysts that connect the ducts near the nipples. Papilloma is usually very small, pedunculated and many villi, due to rich thin-walled blood vessels, it is easy to bleeding.
Clinical manifestations: Patients generally do not have pain, and the main symptoms are nipple discharge and bleeding. Sometimes small oval-shaped tumors can be felt on the nipple, and soft and non-adhesive skin can promote adhesion. When squeezing the mammary gland, bloody discharges can be discharged from the nipple. Breast tube or intracapsular papilloma may have 6-8% cancer rate.