Cell culture is an important process used in cell and molecular biology, providing a model system for studying the physiology and biochemistry of cells, the role of drugs and toxic compounds, as well as mutagenesis and carcinogenesis. Pollution is one of the most common challenges encountered in cell culture laboratories. Contaminants can be divided into two major groups: chemicals (impurities in the medium, serum and water, endotoxins, plasticizers, and detergents) and organisms ( Bacteria, mold, yeast, viruses and mycoplasma). Cross-contamination may also occur between cell lines.
Consequences and effects of pollution on the feasibility and reliability of the results may result in costly loss of samples or cell lines and time commitment. Although it is impossible to eliminate the risk of contamination altogether, it is possible to reduce its frequency and importance by following best practices and increase the likelihood of protecting cell culture vitality. Therefore, all cell culture laboratories require equipment and consumables to help reduce pollution and protect downstream sample integrity.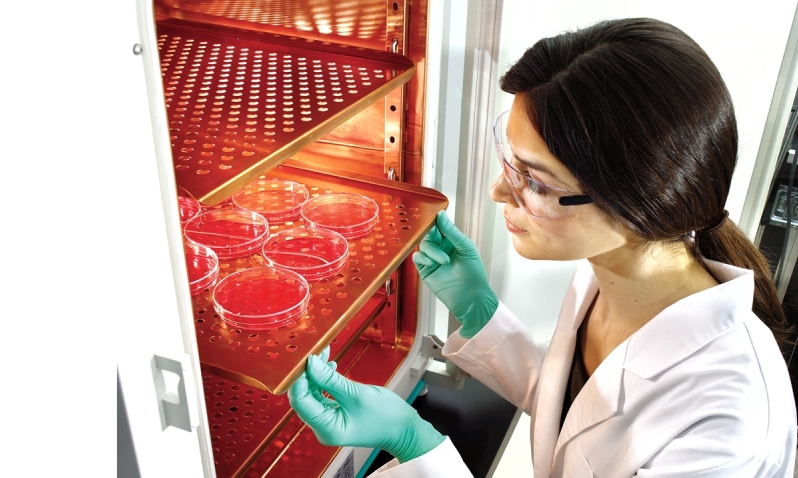 Establish a sterile work area
A typical cell culture workflow involves many steps, simplified to ensure the highest yield. The first step is to establish a sterile work area in the BSC to maintain constant, unidirectional air flow through the use of HEPA filtration technology to prevent the ingress of dust and other airborne contaminants. Therefore, the possibility of external air pollution within the balanced scorecard's internal working environment is very low, and it only involves users and materials in the work area.
Classification is an important consideration when searching for BSCs. The US Centers for Disease Control and Prevention (CDC) divides the BSC into three categories, each representing different capabilities and performance attributes. Classify according to two key criteria: the level of personnel and environmental protection provided, and the level of product protection provided. Class II cabinets are the most widely used in cell culture laboratories because they meet the requirements for protecting products, people, and the environment.
After selecting the most suitable BSC to meet the specific application requirements, proper maintenance will ensure the best performance of the cabinet. The BSC's internal working space must be kept clean and tidy. Each item placed in the cabinet was sprayed with 70% ethanol and allowed to air dry in the BSC work area. In general, as long as proper aseptic techniques are observed, properly maintained and certified instruments can protect cultured cells as well as users by including infectious splashes or dangerous aerosols.
Maintain a safe development environment
The
CO2 incubator
provides a strictly controlled environment for the growth and reproduction of mammalian cells. At the same time, they provide a good environment for the growth of microorganisms. A well-designed CO2 incubator should provide a range of capabilities for air quality, surfaces, and reservoirs to prevent and/or eliminate microbial growth in the incubator.
By using HEPA filtration and active airflow technology, the best protection against pollution can be achieved, which continuously filters the air volume of the entire chamber. Ideally, this technology should be able to quickly provide the ISO level 5 clean room air quality after opening the door. In addition, it is necessary to implement automated high-temperature sterilization programs that have been tested and proven by standard tests in the United States and European Union Pharmacopoeia. This, combined with monthly or semi-monthly manual cleaning and disinfection best practices, can help keep the chamber free from contamination.
The water used to humidify the growth chamber can be an additional location where the microorganism lives. In order to eliminate any microorganisms that may have colonized the water, the reservoir should be emptied every week and supplemented with sterile distilled water. No items should be stored at the top of the incubator because the dust and dust in these items can be swept across the door opening.
Even with all of these measures, it is still recommended that cell cultures be examined under a microscope before starting use to ensure they are healthy (ie, not contaminated, with only a few dead cells) and are growing as expected.
Non-stationary culture best practices
When the cell culture needs to be inflated, use an orbital shaker to mix or stir the material in a tube or flask. The traditional CO2 orbital oscillator was established in a CO2 incubator, limiting the space for fixed cell culture. Recent innovations have led to the development of portable orbital vibrators, which provide flexibility in and out of CO2 incubators. As a result, space is maximized and many different cell types can be cultured simultaneously.
In a CO2 incubator, warm, moist and slightly acidic environments can be a challenge for electronic devices. Therefore it is very important that the vibrating screen's electronic components are sealed to provide a robust and durable life. In addition, magnetic drivers provide long life, minimal heat output and vibration-free agitation. When using large hatchery/refrigerated floor models, it must be ensured that the proper air flow driven by the HEPA filtration system is used to automatically purify indoor air. Ideally, the operation of the shaker should be controlled and adjusted by an external controller to minimize door openings and to avoid interference with culture conditions.
In addition to sudden leaks, it is important to clean and disinfect the shaker at least once a month. Spills may infiltrate into the platform, so the movable platform is very important for reducing cleaning and disinfection.
Get high-purity cells
The
centrifuge
separates and purifies the cells from the supernatant/suspension used for cell growth. During the centrifugation process, the high pressure applied to the sample tube, the bottle and the flat plate may cause it to fail and the sample leaks. In order to prevent the subsequent release of pathogens into the laboratory environment, it is necessary to use bio-protective covers and rotors with proven efficacy. When the system is not operating, the centrifuge cover should be kept closed to prevent condensation and liquids inside the centrifuge drum. This method will eliminate the need to use drainage basins, which may be the source of pollution by vaporizing drainage materials.
It is also important to implement routine cleaning procedures because any contaminants present in the centrifuge can be atomized into the laboratory environment. This not only cross-contaminates but also poses safety hazards for the operator. Because the airflow generated by the centrifuge's high-speed rotor can move contaminants from below the system to the surrounding air, cleaning under this equipment is also important.
Establish the best refrigeration conditions
Cell culture laboratories need refrigeration equipment to safely place media and reagents, as well as drugs and antibodies. Proper storage temperatures play a vital role in maintaining these materials free from contaminants and maintaining their structural integrity throughout the storage for future use.
Laboratory-grade refrigerators and freezers are often inconvenient because the constant noise generated can affect communication and working conditions. However, all the components needed for cell culture can be combined together to avoid exposure to other sources of contamination during transportation, which is more convenient and efficient. As a result, laboratories will benefit from quietly operating refrigeration equipment with a small footprint, so that they can be located at the laboratory's point of use.
As with all cell culture laboratory equipment, maintenance and best practices are critical to ensuring optimal performance. The refrigerator and freezer must be cleaned regularly to avoid contamination while ensuring that no cardboard is stored in or around the system as it can moisten and grow fungi.
Conclusion
Cell culture is a basic technology that enables drug discovery and scientific research. It is important to avoid contamination during the routine work of the cell culture laboratory to ensure that the integrity of the cell is maintained to produce a large number of good cells. To achieve this goal, laboratories must adhere to strict best practices and adopt advanced technologies that aim to reduce pollutants. Maintaining a sterile work area dedicated to cell culture is an important requirement. Once established, the laboratory must ensure that appropriate equipment is in place to promote aseptic processing and storage of cultured cells, incubation, centrifugation, and refrigeration. This method of maximizing inclusiveness is essential to ensure a streamlined and productive approach to success.
Follow our
facebook page: MSL(medical sing long)
to get newest information of our company and products.