How helpful is it to check the condition of the lungs with live calves? Now, veterinarians can use the same ultrasound technology to diagnose pregnancy.
If your veterinarian has an ultrasound machine, it has great value for your cattle, in addition to diagnosing pregnancy.
Theresa Ollivett, assistant professor of food and animal production medicine at the University of Wisconsin-Madison School of Veterinary Medicine, has become a pioneer in the healthy development of the use of chest (pulmonary) ultrasound to manage dairy cows.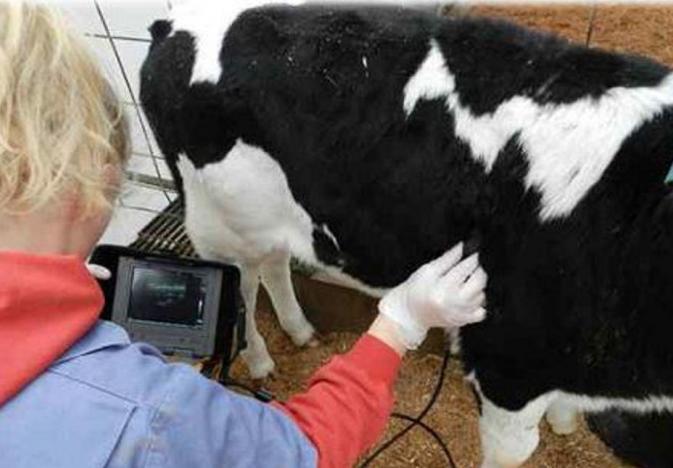 Ollivett recently shared her knowledge of lung ultrasound with the Dairy Girl Network through a webinar. She said that trained veterinarians can perform
lung ultrasound
examinations in less than one minute per calf, with a diagnostic accuracy of about 88%. In contrast, the accuracy of the clinical assessment is about 60%, and the accuracy of the lungs with a stethoscope is only 10%.
"It's worth noting that the severity of lung disease is not fully compatible with the clinical symptoms of the calf," she said. "About one-third of all new pneumonia cases are subclinical, which means they can only be detected by ultrasound. For every clinical case of pneumonia we diagnosed, there are 2 to 4 subclinical cases."
In addition, calves that appear to have pneumonia may actually be fighting another disease. Olivier said she saw an increase in the incidence of salmon yak, many of whom appear to have pneumonia, but in fact the lungs are quite healthy. This distinction can only be achieved by ultrasound.
"By treatment, calves can restore healthy lung tissue unless we detect necrosis or abscess," she shared. Ollivett also pointed out that antibiotic treatment for more than three days may be necessary to achieve a complete cure, she uses lung ultrasound to assess long-term treatment outcomes.
Although it may not be practical for your veterinarian to perform an ultrasound examination of each calf in your herd, Ollivett points out several practical applications of the technology, including:
Monitor clinical case treatment outcomes. In other words, have your veterinarian check your calf for treatment based on clinical symptoms. Inadequate tube feeding of newborn calves in less than a week can lead to aspiration pneumonia. At this age, 80% or more calves should show healthy lungs. A small portion of the calf on the continuum is assessed to determine at what age (if any) the pneumonia case has soared. Determining this phase helps determine the necessary management changes.