Proper operational process of medical X-ray machine

Operational personnel of Medical X-ray equipment must learn through professional and systematic training of technical X-ray.Be familiar with the machine's structural principle,performance,specifications and characteristics.Master the operating procedures and safety rules.Strictly follow the formal rules.Details as follows:
1.Instrument security: Turn volt meter,power meter and other instruments pointer to the lowest position before shutdown and starting up,then appropriately adjust them to the normal conditions when using,in order to avoid the damage to pointer due to a sudden power failure.

2.Strictly control conditions of using: adjust power voltage after starting up.The filament voltage should not be too high,the degree of filament voltage directly affect the volatilization of X-ray tube filament.Therefore,must be used correctly according to regulations,shutdown the machine in time after using to avoid wasting of filament.Non-super-capacity,ultra-kilovolt using X-ray machine,when used,be careful not to overload the X-ray machine.Generally meet diagnostic needs of the premise,as far as possible do not use it when exceed 80% of the rated capacity of X-ray tube.For long time served X-ray machine,should be reduced as far as possible the conditions of using.

3.Should pay attention to the machine's rest time and the X-ray tube's surface temperature generally under 50 ℃ when the machine is in continuous using.It is prohibited to adjust knob or shutdown suddenly when the machine is effecting rays.Components of machine should be in in a safe status after work.Shutdown the machine,cut off the power and report to maintenance staff when the machine makes abnormal sound and odor with abnormal pointer indicating.Forbidden to use faulted machinery,so as not to expand failure.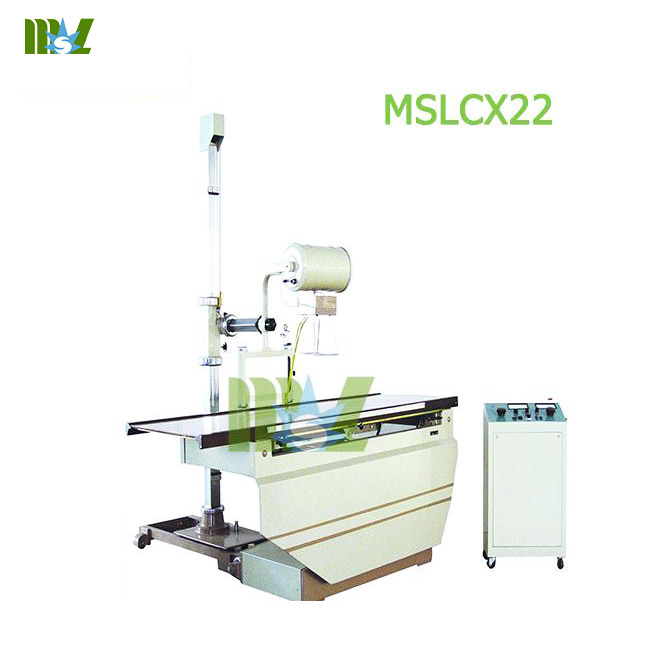 Routine maintenance of medical X-ray machine:
The daily maintenance of the machine is inextricably linked with the machine's normally operating,and maintenance work should be implemented by everyone,not only using but also maintaining.Maintenance is classified of daily maintenance and regular maintenance.

1.Daily maintenance: handled by operating staff,every day before work or after work,clean the surface of machine,keep the machine and the room clean and dry.Should be minimal or non-stacked pile of debris in the engine room.

2.Regular maintenance: Proceeded by serviceman and appointed maintenance personnel,regularly check the fixed connection of the electrical and mechanical parts,cleaning dust,oiling rust (should pay attention to non-oil and high-voltage cables in contact).Check the operation of machine ,if necessary,use instruments to test various parameters for verification.X-ray machine not used for a long time,should be overall tested before using.

It's unavoidable that X-ray machine gets in failure when being used.Once in failure,should immediately stop working,report to professional maintenance staff ,identify the cause of the malfunction,timely repair to exclude,as far as possible to restore the machine to peak performance,avoid situation of calamity caused by small problems.Make detailed records of daily use of the machine and after the repair of faulty on file,in order to keep abreast of the performance status of the machine.In short,machine's running good or bad directly impact the quality and reputation of the radiology department,but the normally running of machine is inextricably linked with the degree of attention from leader of department and the operating maintenance staff's responsible sense.

Related Posts
X-ray generator mechanism and history
An X-ray generator is a device used to generate X-rays......
What is Pregnancy and x-rays
As with any aspect of medical care,knowing that a patient is or could be pregnant is important information......