Cheap portable color ultrasound scanner
1. Low price
2. High image quality
3. With two probes
4. Cardiac probe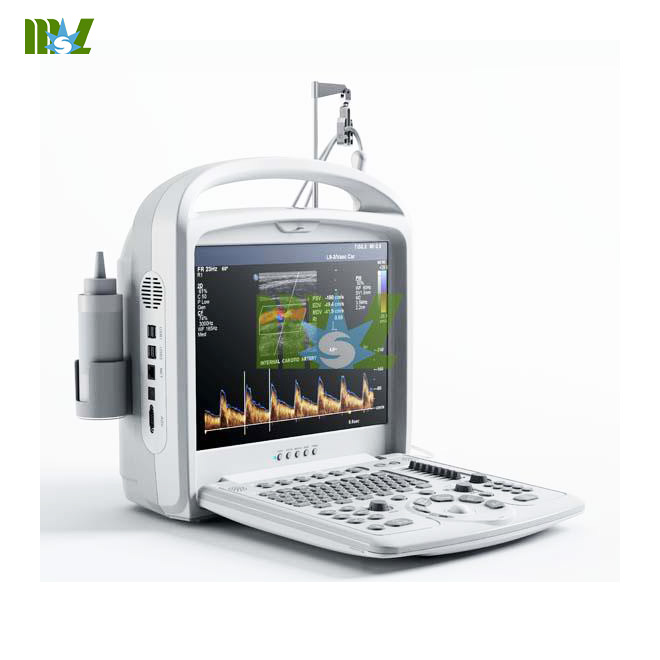 color doppler ultrasound scanner
What is new?
Affordable Compact Excellent MSLCU01 is a compact color doppler ultasound system with various functions and applications. The high image quality and simple operation can help doctors perform and clinical exam, such as abdomen, smallparts, OB/GYN, cardiac, ect.

Full imaging mode: 2D, CFM, PDI, PW, HPRF, etc
1. Standard two transducer sockets with 15''LCD monitor
2. Full function control panel with back-lit and 8 level TGC
3.Selected transducers: Convex, Linear, Transvaginal, micro-convex etc.
4. Tissue Harmonic Imaging
5. iBeamTM: spatial compounding imaging reduces random noise and enhances border differentiation without compromising frame rate
6. iZoomTM: automatically expands the image to full screen
7. Full patient database solutions: DICOM3.0, AVI/JPG, USB2.0, HDD, PDF report, etc..


Expanded Functions:
1. iClear: image optimization, softer and more exquisite.(charging item)
2. B/C mode: CFM and B mode image displayed within one interface, easier for the doctor to browse and compare.
3. iTouch: one-click optimization.
4.THI: tissue Harmonic imaging for high frequency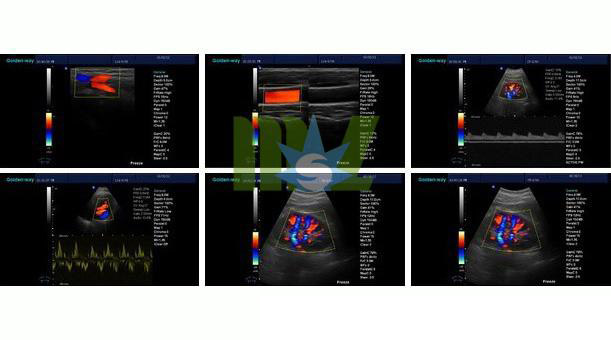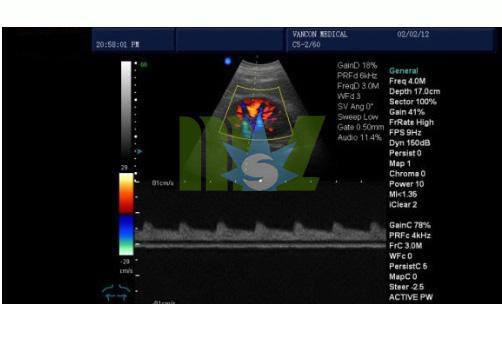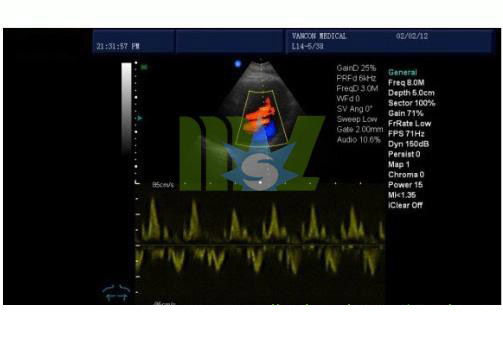 Configuration:
Intel Core 2 Duo L9400
2 GB DDR-RAM
64GB SSD hard disk
Based on Windows XP

Friendly User Experience:
1. 2 Probe connectors
2. 4 USB ports, 1 Lan port, 1s-video port
3. AC adapter combined with wave filter, avoiding possible effect caused by unstable voltage.
4. Trackball and back light keyboard are easy to use.
Display mode
B&W mode: B, 2B, B/M, B/C
Color Doppler mode: 2D, CFM, PDI, PW, HPRF, etc
Triplex: Real-time simultaneous 2D, Doppler & CFM
Duplex: Real-time simultaneous 2D, Doppler
Gray scale: 256
Display: 15" LCD monitor
Transducer frequency: 2.5-10Mhz
Digital technology: Dynamic Receiving Focusing (DRF)
Dynamic Frequency Scanning (DFS)
Scanning depth: 300mm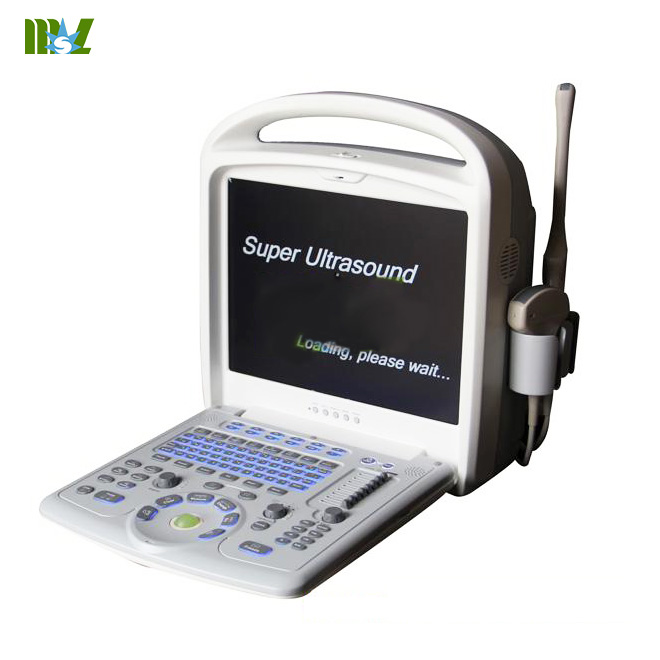 Imaging Processing
Pre-processing:
8-segment TGC
Preset
Gain (B&W, Color, Doppler)
Audio
PRF
Dynamic Range
Image enhancement
Acoustic Power
Post-processing:
gray map
Black/white reverse
Left/right reverse
Up/down reverse
Functions:
Cine-loop: 100 frame cine loop memory
Storage media: 64G massive image-storage capacity
Zoom: Pan zoom

USB ports: 4
THI: tissue harmonic imaging
Touch
Panoramic Imaging
Trapezoid Imaging
iClear Imaging
Measurement & Calculations
B mode: distance, circumference, area, volume, angle, fetal growth, curve
M mode: distance, time, velocity, heart rate
Software package: abdomen, gynecology, obstetrics, cardiology, small parts, urology

Others
Transducer connectors: 2 active transducer connector ports
Peripheral ports: video, S-video, VGA, 4 USB ports
Power supply: 100~240VAC±10%, 50Hz/60Hz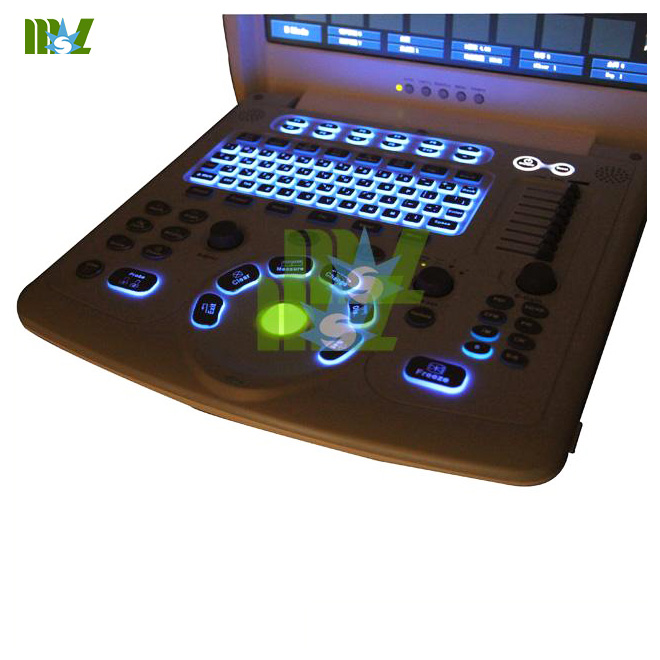 Transducers:
3.5Mhz Electronic convex array transducer
7.5Mhz Electronic linear array transducer
5.0Mhz Electronic micro-convex transducer
6.0Mhz Electronic transvaginal array transducer