Trolley 3D Color Doppler B Ultrasound Machine is composed of advanced technology of digital color Doppler
MSLCU07 color Doppler ultrasonic diagnostic system is composed of advanced technology of digital color Doppler and wide frequency probe, internet applications system with general measuring function, kinds of leading image process technology, which reaches to leading level in the world. It is whole-body applied digital color ultrasonic diagnosis system of Haiying ultrasonic family with clear image.
trolley 3D colourful doppler ultrasound scanner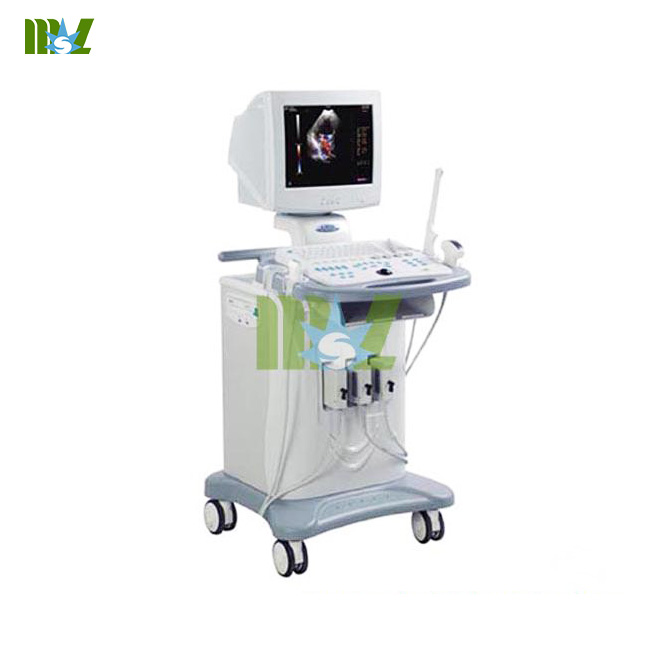 Applications:
1. Abdominal
2. Small Parts
3. Obstetrics
4. Gynecological
5. Cerebrovascular
6. Peripheral Vascular
7. Cardiac
Imaging Modes:
1. 3D
2. Color Doppler
3. Power Doppler
4. Pulsed Wave Doppler
5. M Mode
6. Dual Image Mode
7. Duplex, 3D & PW Doppler
8. Triplex, 3D, Color & PW Doppler.
System Description of Color Doppler Ultrasound:
1. The system is a 128 channel, high resolution ultrasound imaging system with patented Adaptive Focusing which enables high performance ultrasound imaging from 2MHz to 10MHz.
2. Each transducer has three imaging frequencies and two or three Doppler frequencies available.
3. The system has sophisticated report generating capabilities for OB, Vascular, Cardiac, Gynecology and Urology.
4. This PC based system can store images and reports to disk. Images and report can be copied to external media. HTML versions of reports can easily be copied, emailed and viewed by any Internet Browser.
5. The system provides multiple application specific presets for each probe. Custom presets can be generated by the user.
6. Windows 2000 Professional Operating System enables support of a wide range of peripherals and is readily upgraded with software enhancements.
Hardware and Software:
1. 128 Element Linear and Curved Arrays
2. 2 Transducers can be connected electronically selectable
3. Receiver Dynamic Range > 125dB
4. Total Dynamic Range > 150dB
5. Display Dynamic Range > 70dB
6. Eight Transmit Focal Zones for high resolution throughout the image
7. Continuous dynamic focusing on receive
8. Center frequency range from 2.5MHz to 9MHz (band edge from 1.5MHz to 12MHz)
9. Multi-frequency operation for all probes
10. B Mode Imaging frame rates up to 34 frames per second
11. B Mode line density up to 512 lines
12. Field of View (FOV), variable, up to 25 cm in five steps
13. Variable transmit power and variable image gain
14. Slide pot TGC controls
Control Panel and User Interface:
1. Ergonomic control panel with controls organized by mode
2. Alphanumeric QWERTY keyboard
3. Trackball with Set and Esc keys
4. Integrated stereo speakers
5. 3D image controls: Power, Gain, TGC, Depth, Focus, Magnify, Zoom, Dual, Orientation
6. Image Enhancement: Dynamic Range, Persistence, Gray Scale maps, Edge Enhancement
7. Doppler controls: Angle/Steer (linear arrays), PRF (velocity range), Angle Correction,Baseline Shift, Gain ,Power
8. Color controls: Velocity mode, Power Mode, Color priority, Color frame rate, Color maps, Color persistence
9. Patient data entry
10. mage Acquisition: Cine review, Image storage, Cine storage
11. Image and Report retrieval
12. Image Annotation
Monitor:
1. 15 inch, color VGA
2. Swivels, Tilts
3. Brightness, Contrast, and Color temperature controls
Imaging Display
Dual image display
Image orientation control, both horizontal and vertical
Magnify up to 3×
2× Zoom, with full screen image and magnified section
Variable Sector Angle for curved array transducers
256 Gray shades
Eight gray scale maps
Display dynamic range from 30 – 70 dB
Display of output power
Display of TI and MI in all modes
Variable persistence
Edge enhancement
Image storage for more than 10000 frames on local drive (unlimited with external media)
Standard Configuration
Main unit,
15"RGB color monitor,
3.5MHz 60R65D multi-frequency convex probe
7.8MHz38L multi-frequency linear probe,
7.0MHz14D10R multi-frequency convex probe.
6 USB ports,
DVD-RW,
3 probe connectors.