When the electromagnetic lead suit radiation reaches the surface,the reflection and refraction of the incident wave.
When electromagnetic lead suit radiation traces were not reflected or refracted off the surface and into the body's energy radiation shielding skirt,make metal material structure of molecules or atoms produced by forced vibration,if these molecules or atoms collide,the vibrational energy is may be converted into translational kinetic energy,the energy of thermal motion of the molecule increases,that electromagnetic radiation is converted into heat energy dissipated.
1:Reflecting more or transformation of energy more,it is dependent on instantaneous intensity;
2:Understand the difference between attenuation and shielding.
From the principle,we found that most of the radiation protection suits can block electromagnetic radiation hazards to human,when a small portion of the collar cuffs enter through skin contact after reflection at close range,some still will be converted into heat consumed,even if some absorbed by the skin,it is already very few.
Tools/materials
lead suits must be especially careful when cleaning.If not,it is easy to cause the fabric of metal fibre or silver fiber breakage,damage,oxidation and so on.And affecting the efficacy of lead suit radiation shielding and life.Learn to approach,keep the radiation protection clothing clean easily.Now,let me show you some taboo and washing methods.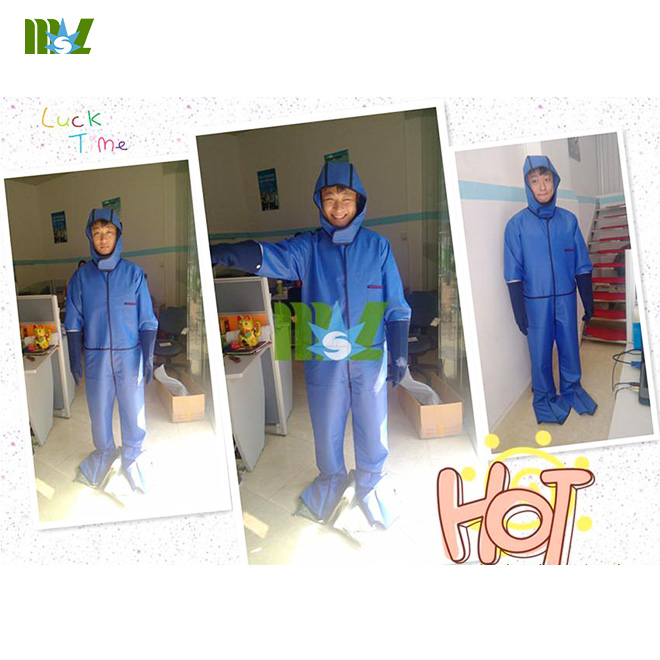 Methods/steps
1.Not washing by machine lead suit should be gentle hand wash,do not use washing machine.The usual practice of using a washing machine to wash clothes this next turn comes,lead suits so it can not use the washing machine to wash,washing machines easily damaged during lead suits for radiation scroll work inside the metal fibers,thereby reducing the effect of radiation protective clothing.
2.Avoid bleach
lead suits should not use bleach when cleaning,bleach contains a certain degree of corrosive bleach stains after lead suits,clothes corrosion of metallic fibers will be damaged.
3.Avoid wring
After washing the lead suit,do not wring or drying.After washing,dry it picked up directly from the water,but you can not get direct sun exposure.
4.The washing method metal fiber lead suit is as follows
:
1.It can be washed directly,common neutral.Liquid and powder can be used.
2.Hand wash,brush lightly with a soft brush tile,avoid rubbing and washing machine;
3.Do not wring washed,picked up indoor hung in,not exposure directly from the water;
4.Middle temperature ironing,the temperature does not exceed 150 degrees.

5.Silver fiber (lead gloves for sale) washing method is as follows:
1.Use pure water or cold water hand wash (reducing alkali and chlorine damage silver);
2.Put the right amount of neutral liquid soap,shampoo or laundry detergent short-term immersion;
3.Avoid using detergent or soap;
4.Can not rub and machine washable,do not bleach,hang dry indoors to avoid exposure,do not recommend ironing.
Edited by the professionals of the Medsinglong Global Group Co.,Limited.