It's of great significance for conducting clinical blood coagulation tests to disease diagnosis.Except screening and diagnosis Hemorrhagic disease,blood coagulation analyzers can also be used for examination before blood testing.Hence,the accuracy of the test results is very important.There are some matters that operators must pay attention to during testing, or the error in testing results may even be life-threatening. Now introduce as following.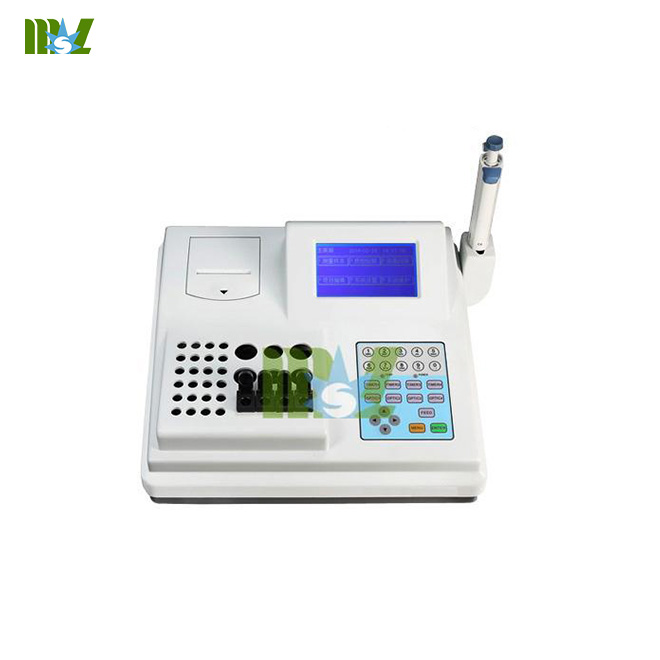 Firstly,tips in collecting samples
1.Patients should be in quiet and fasting state before collecting blood samples.Emotional excitement,strenuous exercise and nervous state can result in increase of thrombocyte number,coagulation and activities of fibrinolysis going high.
2.During collecting blood samples,tourniquet should not be too tight or for too long time,for it can make factors and t-PA release and activate.
3.Use Disposable plastic syringes and plastic tube to reduce activation of platelet and and blood coagulation factors.Collect 2ml blood in the first syringe and change another syringe to collect testing blood,avoiding blood mix into tissue liquid.The blood should be thoroughly incorporated with the anticoagulant,or else,it will impact the accuracy of results.

Secondly,the storage and transportation of the samples
4.Sample should be stored in plastic or glass test tubes and plug the lid immediately.Or else CO2 releasing and PH increasing will result in APTT and PT extension.
5.Separate the plasma as early, within 2h will be best.
6.Transport samples at indoor temperature,for low temperature would damage the platelet,activate factor Ⅶ and Ⅺ and shorten PT and APTT.If some sample must be in low temperature,it can be transport under 4℃ to avoid factor Ⅴ and Ⅱfrom degradation.

Thirdly,election of reagents
7.Anticoagulant,you should use 0.109mol/L Sodium Citrate, which can can effectively prevent factors Ⅴ and Ⅷ from activation.According to the proportion of 1:9,when HCT>55% or <25%, calculate the dosage of anticoagulant as following, dosage of anticoagulant(ml)=0.00185×whole blood volume(ml)×[100-HCT(%)].Using boiled citrate solution will make PT and APTT lower.
8.Testing reagents, choose suitable reagents according to the equipment performance.

Fourthly,status of the analyzer
9.Status of the analyzer affect the testing results directly.Therefore,the automatic coagulation analyzers should be placed in dark room with good ventilation,indoor temperature at about 25 ℃.Besides,you need exame all the parts of the analyzer to see whether there are abnormal problems before starting.On another side,do daily maintenance to ensure the analyzer can be work stably.

Fifthly,technology
10.Strictly operate as per regulations and master the experiment principle,method and procedure to strive for excellence. portable coagulation analyzer state of good or bad, directly affect the result of the experiment, so the blood coagulation instrument should be placed away from light, leak of indoor, and to ensure that the indoor temperature control in 25 degrees or so, to prepare before starting the work, inspection equipment parts, to see whether there are abnormal, do daily maintenance and maintenance, to ensure the normal operation of the instrument.

Related Posts
5 precautions for collecting blood gas analysis
Respiratory state of the patient should keep stable,Patients should be in a stable state when be collected,let the patients remain calm breathing condition in a stable ventilate surrounding......
Fully automatic blood cell analyzer operation points for attention
Press switch button Fully automatic blood cell analyzer on the left instrument,the instrument automatically starts a cycle,including flushing cycle and blank count......