Now High speed centrifuge Equipped with the analytical optical system,the existing ultracentrifuge for analyzing can be used for quantitative Analysis.This text introduces in the process of clinical use,the centrifuge's common malfunction and its exclusion methods and maintenance tips.
Often in the process of using,the motor can't start.We should check the attrition rate of carbon brush when the main power indicator lights.If over one third of the total,it's time to replace the carbon brush.If the main power indicator doesn't light,we should check whether the fuse of indicator or indoor switch panel blows out or not,also check whether the power cord good contacts.In the case of the fuse blows out,it's time to replace it to ensure smooth circuit.Besides,we should examine the figure of vacuum pumps and oil pressure.The motor can't start with excessive oil pressure.We also should check whether each oil-way especially the small throttling hole is blocked,clear it if blocked.If the bearing breaks or is obstructed when rotating,or the totor can not reach the rated speed,it's time to change or clear the bearing.
The oxide on the commutator surface,even be burnt into sags and crests,or the brush mismatch with the commutator's outer edge,all lead to its speed declining.We should clean the commutator to make good contact.If the coil of the rotor shorts or breaks,we could test it with a multimeter and wind coil again.Within the use of the rotor,the centrifugal pipe may burst,sample may leak and rotor may break because of metal fatigue,overspeed,overstress,chemical corrosion,improper rotor selection,unbalanced swivel and temperature runaway.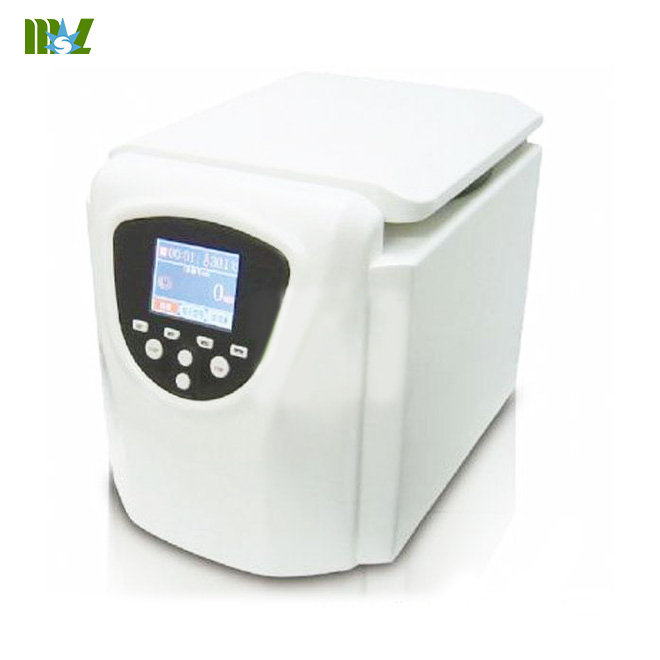 In the above cases,it requires the operators to be skilled in operating procedures,choose suitable centrifuge Hematocrit centrifuge tube and rotor,control every step of operation strictly,try to reduce unnecessary artificial damages and use the rotor within the safety factor and guarantee period.
Power barrier is one of the leading causes of poor freezer and refrigeration start,which also causes motor not turning,so we should check the power and fuse respectively. Low voltage and safety device failure also can fail the start of the freezer.Low voltage may be caused by low grid voltage,too much switchboard wiring or too long power line,which is supposed to be 3meters.If the power line capacity is not enough,it will not only reduce the voltage,but may also result in an accident. When the supply (benchtop centrifuge)voltage drops to 180-190VJ,freezer does not start,which impacts the cooling effect.If any abnormal phenomena presents when working,we must stop immediately to reduce unnessary damage.